Estimated read time: 2-3 minutes
This archived news story is available only for your personal, non-commercial use. Information in the story may be outdated or superseded by additional information. Reading or replaying the story in its archived form does not constitute a republication of the story.
Ed Yeates ReportingWhat a remarkable high-tech hospital that doesn't feel like a hospital! That was reaction today as people toured the new Huntsman Cancer Hospital following dedication ceremonies this morning.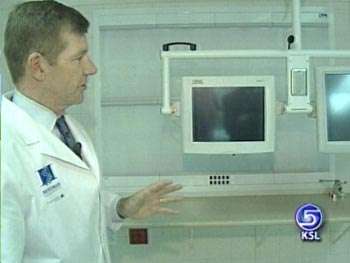 This 100-million dollar wing to the already multi-million dollar Huntsman Cancer Institute opens a new world for cancer patients and their families. Architects, builders, doctors, patients, researchers and nurses all got together to pull off this vision.
Architect Don Finlayson's own daughter got cancer before he designed the building. What did she and other patients tell him?
Don Finlayson, Architect, Nexus Inc.: "We also talked about the lack of contact with nature for extended months at a time."
The result -- patient rooms that look and feel more like a hotel room than a hospital. The floors have a wood-like appearance, and the view of the mountains and patios outside is incredible. The patient would have a full view of the mountains, the garden, and the patio area through specially designed windows. But if you're on the outside looking in, you see only a mirrored reflection.
The new operating suites are something else. Dr. Sean Mulvihill showed us a spacious room. And instead of cluttered equipment on the floor, it's suspended from the ceiling. The surgeon controls everything by simply touching computer screens.
Sean Mulvihill, M.D., Chairman, University of Utah Dept of Surgery: "In the past the surgeons would sort of issue a command that something be done and someone would have to stop whatever they were doing and go and do it."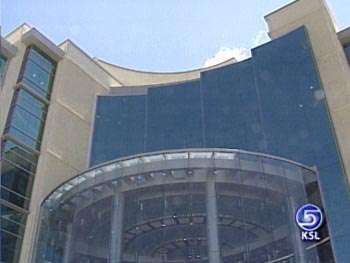 But not anymore, thanks to new evolving state of the art equipment. Noisy areas are also isolated from patients so they really do have peace and quiet. The facility also includes living rooms, business hookups, and laundromats for families who have to stay.
At the dedication by LDS Church President Gordon B. Hinckley, Karen and Jon Huntsman talked of their continuing dream - looking rapidly for the day when cancer patients can come and leave, cured of their disease.
Hope never fades for those like Howard Kadwit and his father, whose pancreatic cancers remain in remission, defying logic.
Howard Kadwit: "Great, I feel good. I'm saddened by the death of my good friend Bobbye Sloan."
Jon Huntsman says he'll will never surrender in his battle to eradicate cancer. For that the crowd gave him a standing ovation.
The public will have a chance to tour the new hospital on or about July first.
×
Most recent Utah stories