Estimated read time: 1-2 minutes
This archived news story is available only for your personal, non-commercial use. Information in the story may be outdated or superseded by additional information. Reading or replaying the story in its archived form does not constitute a republication of the story.
Kim Johnson ReportingA prayer vigil will be held tonight on the capitol steps for the marine held hostage in Iraq, and organizer Jeffrey Arnson is hoping for a better turnout than the one at noon in which only two other people took part. Citizens and leaders of all faiths are invited to participate.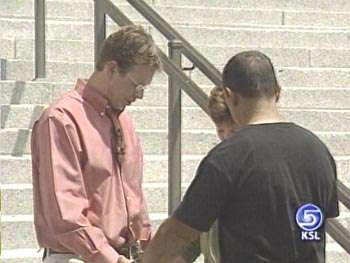 At noon today only two people came here to the capitol for prayer. Arnson joined hands with the two of them and prayed for Corporal Hassoun's release. Julian Chavez, who served seven months in Iraq with the National Guard, also offered a prayer.
Julian Chavez: "I didn't want any publicity. I just came to pray because I believe God has the ability to deliver him and I just came to unite with whoever else came to pray."
Patricia Powers: "The main thing we can do is pray for him. We can all do that, so I just wanted to be part of it."
Arnson says he felt compelled to call for a prayer vigil when he heard the news of Corporal Hassoun's capture.
Jeffrey Arnson: "I thought we could do more together. What happened was I was driving to work, said a prayer in my heart, but we need to do more to help out this family."
We also spoke today with the spiritual leader of the Islamic faith here in Salt Lake. Imam Shuaib Din says he shares in the Hassoun family's sorrow, confusion and frustration, and is also praying for Corporal Hassoun's release.
Imam Shuaib Din: "We are praying because that's all we can do at the moment is to pray. We are hoping for the best, and as you say keeping our fingers crossed."
Imam says he hopes he can attend tonight's vigil set for six o' clock.
×
Most recent Utah stories