This archived news story is available only for your personal, non-commercial use. Information in the story may be outdated or superseded by additional information. Reading or replaying the story in its archived form does not constitute a republication of the story.
(KSL News) Rocky Anderson takes his anti-war antics to Washington.
Salt Lake City Mayor Rocky Anderson raised his voice with thousands of anti-war protesters in the nation's capitol today, demanding the withdrawal of U-S troops from Iraq.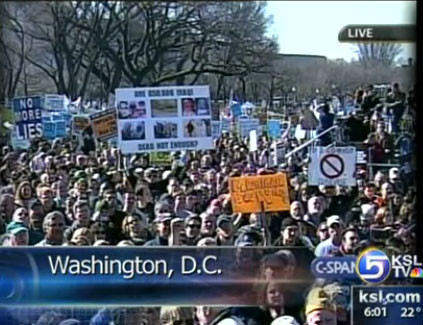 Tens of thousands of people, including Salt Lake Mayor Rocky Anderson, converged on the National Mall for the first big war protest in Washington, D.C. since the November election.
Mayor Anderson was invited by members of 'United for Peace' to speak at the rally. He said all those who attended were doing their patriotic duty to question President Bush's quote "authoritarian assertion of power".
Rocky Anderson, Mayor of Salt Lake City: "We want the world to know how embarrassed we are, how sad we are, how outraged we are that our president and a complacent congress with the aid of a dismal mainstream media have caused millions of people pain and tragedy."
Half a dozen lawmakers joined a list of celebrities which included Jane Fonda, known for her opposition to the Vietnam war, in protesting President Bush and his plans to escalate troop levels in Iraq.
Rep. John Conyers (D) Michigan: "This is what happened during the Vietnam War. The people stopped the war."
Also, a forum today at the Salt Lake Library was held to protest the War in Iraq.
Featured speakers, included Iraq War veteran, Marshall Thompson, who recently walked the entire state protesting the war.
Much like those protesters in Washington D.C., speakers called for the withdrawal of troops, not an increase, as President Bush plans.
×
Related Links