Estimated read time: 2-3 minutes
This archived news story is available only for your personal, non-commercial use. Information in the story may be outdated or superseded by additional information. Reading or replaying the story in its archived form does not constitute a republication of the story.
Richard Piatt Reporting There is still no word on the fate of the US Marine with Utah ties who's being hostage in Iraq. Here in Utah the family of Corporal Wassef Ali Hassoun is silent. But an ex-girlfirend in San Diego spoke with Richard Piatt.
There are mixed emotions for this San Diego-area woman. She's worried about Wassef Hassoun, angry at reports he may have deserted the Marines to return to Lebanon. She is confused, she says, at why this is happening to him --a quiet man whose expertise is an Arabic translator.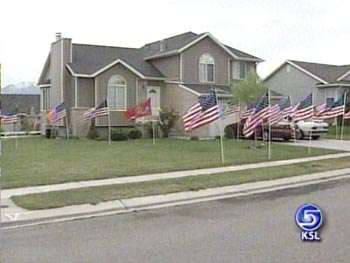 Nicole Merzi, Ex-Girlfriend: "He's not there to kill people, he's just there to translate. And I mean, he is them. I don't understand why they'd want to, he's the same as them."
At the same time, Nicole Merzi's mother is angry, upset at media reports Hassoun deserted his post to flee to Lebanon.
Michele Merzi, Ex-Girlfriend's Mother: "It's not right, things aren't right and it should never be portrayed that way, never. And it's sick that it's being done."
There is also anger and resentment in West Jordan. A comment to the Associated Press by Corporal Hassoun's brother Muhammed, who lives here, simply says the desertion report is 'all wrong'.
Outside the home today more flags were on the front lawn, this time placed by local boy scouts in a show of support.
The military is offering nothing new on efforts to free Hassoun, or on any possible negotiations with the hostage-takers. Hassoun's family is hoping he is able to tap into pleasant memories with them during this unbelievable stressful time.
Former Military Psychologist Brian Riedesel says the stress on Hassoun could be described as intense. And it probably extends to the rest of Hassoun's marine unit.
Brian Riedesel, Psychologist: "Handling the stress of the daily threats is a big job. And it's really important for morale."
There is updated information on the threats and a deadline: The Associated Press is now reporting there was no Wednesday deadline from the terrorists.
×
Most recent Utah stories