Estimated read time: 2-3 minutes
This archived news story is available only for your personal, non-commercial use. Information in the story may be outdated or superseded by additional information. Reading or replaying the story in its archived form does not constitute a republication of the story.
Kimberly Houk ReportingA sex scandal involving a high school baseball team has led to criminal charges. Details of the case have a community on edge. Prosecutors today charged six members of the Tooele High baseball team.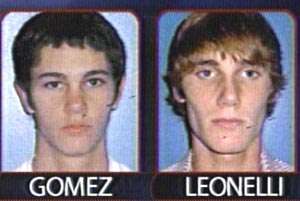 Prosecutors say those players videotaped themselves having sex with a 15-year old Weber County girl, who apparently consented to the activity.
All six boys will be charged with sexual exploitation of a minor, a second-degree felony. Two of those boys will be charged as adults, the other four will be charged as juveniles.
Three and a half months ago the Tooele High baseball team traveled to St. George for a tournament. But it's what happened late one night that now has them facing a felony charge. Police say Matthew Gomez and Shane Leonelli, as well as four of their younger teammates videotaped themselves having sex with a 15-year old girl in their motel room.
Gary Searle, Deputy County Attorney: "The tape is on and off throughout the night. It starts after some of the activity has occurred and it details sexually explicit conduct between several of the boys and this girl."
Prosecutors say the sexual activity lasted four hours and it was consensual between all six boys and the girl.
Gary Searle: "We didn't see, in viewing that videotape that there was evidence of any threats, physical, in nature that there was no violence portrayed there to get someone to undertake such acts or be involved in such acts."
The public disclosure of the details has spread shockwaves through the small town.
Mary Parker, Tooele Resident: "They're kids, they're young people and sometimes they don't always make the best decisions. But they should be charged, they should be responsible for their actions."
Bill Paulos, Tooele Resident: "I feel sorry for them, but they created the problem. I feel sorry for the mothers more so than the kids because they should have known better than that."
The exploitation charge comes from the fact that they taped the incident and circulated the videotape.
Eyewitness News has learned that charges may also be filed against former Tooele High School principal Sandy Shephard for failing to report the incident. Police say a parent gave her the tape, she held onto it for two days before turning it over to police.
Police say the principal is also the aunt of one of the juvenile boys charged. Coach of the Tooele High baseball team has also resigned. He happens to be a cousin of Shane Leonelli, one of the adult males charged in this case.
×
Most recent Utah stories