Estimated read time: 2-3 minutes
This archived news story is available only for your personal, non-commercial use. Information in the story may be outdated or superseded by additional information. Reading or replaying the story in its archived form does not constitute a republication of the story.
Debbie Dujanovic ReportingThe Utah Marine reported to have been kidnapped in Iraq is said to be exhausted, sleeping, and down 20 pounds. Corporal Wassef Ali Hassoun is now at a US military hospital in Germany after turning up in Lebanon two days ago.
Doctors and Marines in Germany say Hassoun slept during the flight from Lebanon; they won't start debriefing him until tomorrow. He's been checked out by doctors and, for the most part, looks healthy.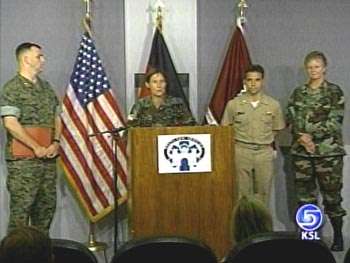 Doctors say they've prescribed him only sleeping pills, that Hassoun tells them he's slept just two to three hours a night for the last three weeks.
Cmdr. Peter Marco, U.S. Navy Physician: "He said his spirits were down before seeing his family in Lebanon, but once he met his family in Lebanon he says his spirits were much better. He's very exhausted though."
After the release of dramatic video of his apparent kidnapping, and reports he'd been and killed, Hassoun turned up at a relative's home in Lebanon on Wednesday. He met up with U.S. officials there yesterday.
Questions surfaced: was he kidnapped, was it a hoax, an attempt to desert the military? When asked if they found marks or signs he'd been tied up and bound his doctor said, "I found him in excellent condition. And if did not find any bruises or injuries on his person."
But the military has not questioned Hassoun's story yet, they'll give him a day to rest.
Sally Harvey, U.S. Army Psychologist: "We do not ask those type of questions until the debriefing starts. We want to give him a chance to tell his story; that will happen tomorrow."
Today Hassoun's older brother spoke from his West Jordan home, describing the ordeal as an emotional roller coaster. He said the hoax theory is simply wrong.
Mohamad Hassoun, Wassef Hassoun's Brother: "With my knowledge of my brother, I do not believe that is a possibility, no."
The military says Hassoun's stay in Germany will last about four to five days. Then they'll fly him back to Camp Lejeune in North Carolina. That's when the Navy Criminal Investigative Service will begin questioning Hassoun about his disappearance.
×
Most recent Utah stories