Estimated read time: 2-3 minutes
This archived news story is available only for your personal, non-commercial use. Information in the story may be outdated or superseded by additional information. Reading or replaying the story in its archived form does not constitute a republication of the story.
Tonya Papanikolas ReportingWe have a week of hot temperatures in store! We're hitting the high 90s, maybe even flirting with 100 this week.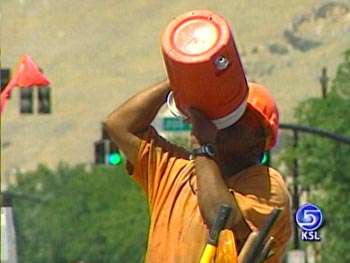 Kids at the Gateway are beating the heat by running through the popular fountain. But not everyone is able to stay cool so easily.
KSL spoke with some construction workers who still have to do their job despite the heat. They say they're used to it, but the hot temps can make things sweaty and uncomfortable.
Dominic Valente, Working in the Heat: "If you have a hydrant that you have open, go ahead and spray yourself with some water. Stay hydrated. That's about all you can do."
The workers we saw were prepared with water coolers and a lot of beverages. They told us they take the winter off. Plus, they just hit the shower when they get home so they say they can't complain too much.
At the Brighton Gardens assisted living facility in Salt Lake, the staff makes sure their elderly residents stay cool and drink enough liquids this time of year.
Linda McGraw, Brighton Gardens Nursing Director: "The elderly are extremely susceptible to dehydration and to not taking in enough fluids. And most of our senior population, even in the best of situations, don't drink enough."
Dehydration can lead to light-headedness and a drop in blood pressure so nurses take the heat seriously. If residents want to go outside, a staff member will accompany them and make sure they don't stay out too long. Patients stay cool inside with fans and their own air conditioners in their rooms.
If you have to be outside on hot days like this, you really need to stay hydrated. The Red Cross says to carry water or even juice with you and drink it continuously, even if you don't feel thirsty.
×
Most recent Utah stories