Estimated read time: 2-3 minutes
This archived news story is available only for your personal, non-commercial use. Information in the story may be outdated or superseded by additional information. Reading or replaying the story in its archived form does not constitute a republication of the story.
DOVER, Del. (AP) -- A U.S. Marine who disappeared in Iraq and turned up in Lebanon three weeks later was brought to the United States on Thursday after six days of evaluation in a U.S. military hospital in Germany, a military official said.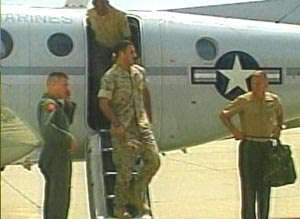 Cpl. Wassef Ali Hassoun took off from Ramstein Air Base on a morning flight aboard an Air Force C-5 Galaxy heavy transport jet for Dover, Del., a day after he was originally scheduled to depart, base spokeswoman Petra Day said.
The flight arrived at Dover on Thursday afternoon and Hassoun then boarded another flight for the Marine base at Quantico, Va., according to an Air Force official at the Delaware base who spoke on condition of anonymity.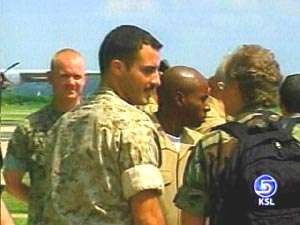 At Quantico, the Pentagon's Joint Personnel Recovery Agency will handle the rest of his repatriation, according to the Marine Corps.
The U.S. Navy has said it is investigating whether the kidnapping might have been a hoax, but the Naval Criminal Investigation Service is not expected to question Hassoun until his repatriation procedure is completed, the Marine Corps said.
As he departed the Landstuhl Regional Medical Center on Wednesday, Hassoun said he was anxious to get home.
"I am in good health and spirits, I look forward to my return home to friends and family," he said in a written statement provided to The Associated Press, his first public comment since he vanished June 20 from his base near the troubled Iraqi city of Fallujah.
Hassoun had been flown to Germany on Friday after reappearing July 8 at the U.S. Embassy in Beirut. It remains unclear how he made the journey to Lebanon, where he was born and still has some relatives, from Iraq.
"All thanks and praises are due to God for my safety," he said. "I am also very thankful for all the kind wishes, support and praise for me and my family from my fellow Marines, all the people in the United States, Lebanon and around the world."
Hassoun signed the statement "Semper Fidelis," the Marine Corps motto meaning "always faithful."
During the three weeks he was missing, various conflicting reports emerged about Hassoun -- first that he was kidnapped and beheaded, then that he was alive. There were suggestions it was all a hoax.
Hassoun's debriefing in Germany was designed to help U.S. military specialists learn any lessons about the circumstances of his disappearance that could help others who find themselves in similar situations.
(Copyright 2004 by The Associated Press. All Rights Reserved.)
×
Most recent Utah stories