Estimated read time: 2-3 minutes
This archived news story is available only for your personal, non-commercial use. Information in the story may be outdated or superseded by additional information. Reading or replaying the story in its archived form does not constitute a republication of the story.
Jed Boal reportingSteve Foote, SSLC Chief: " It's one of the most expensive fires in the history of the Salt Lake Valley, it doesn't get more expensive then this."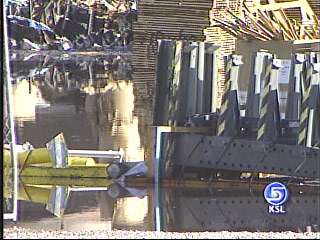 Estimated damage at the paper plant that went up in flames Friday evening in Salt Lake has reached 10 million dollars.
Today investigators will search through the debris in hopes of finding a cause.
The spectacular six-alarm fire wiped out 4,000 tons of rolled paper in a storage yard at Smurfit-Stone Container Corporation. Smurfit-Stone manufactures and packages paper bags.
Because of the size of the fire and how fast it grew, investigators have some serious questions about how it started.
Today the federal investigation team really gets started. It will take days to determine where the fire started and how.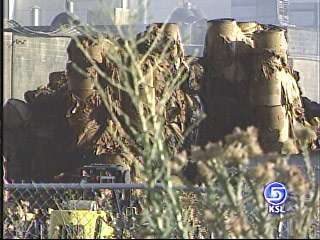 The greatest immediate challenge is pumping the water out of the way. Two million gallons of water still flooded the lot this morning.
It's also still burning, and hot. The four ton rolls of paper are so tightly wound that their inner cores are still smoldering.
Another challenge is safety. If the heavy and wet columns of paper fall, someone could be crushed.
Sunday, the investigative team met to survey the fire site and plan its attack. Investigators are not speculating whether this fire was the work of eco-terrorists.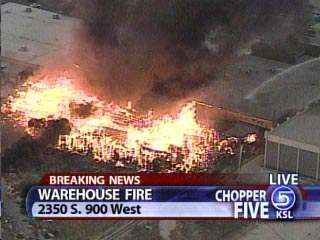 Steve Foote, SSLC Fire Chief: "We need to know how it started, where it started, and starting to compile interviews of employees, and business owners, anyone that saw anything of a suspicious nature."
The National Response Team is a federally funded investigative unit made up of ATF agents, chemists and other experts in this type of fire. The fire chief calls them the "Best of the Best". He's elated they are here to help.
He's also amazed firefighters saved the interior of the actual plant, aside from some fire damage to the roof and an interior wall. Inside the plant, most of the company's equipment, worth 35 million dollars, is O-K.
The plant will stay closed during the investigation. As they get power and access, they'll start to bring employees back, but don't know when that will be.
No one lost a job, most will lose a few days pay.
×
Most recent Utah stories