Estimated read time: 1-2 minutes
This archived news story is available only for your personal, non-commercial use. Information in the story may be outdated or superseded by additional information. Reading or replaying the story in its archived form does not constitute a republication of the story.
John Daley ReportingMarine Corporal Wassef Ali Hassoun: "I did not desert my post. I was captured and held against my will by anti-coalition forces for 19 days."
The U.S. Marine at the center of a puzzling hostage situation in Iraq insists he was captured by enemy forces, and that he is still a loyal Marine. Hassoun's disappearance is still unexplained.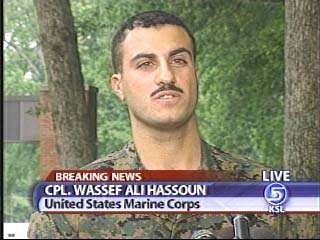 Hassoun did not answer any questions during his brief appearance today. The Associated Press reports he was joined by his brother, who arrived from Utah.
A Marine spokesman says the Marine Corps is not in a position to confirm or refute Hassoun's claim that he was kidnapped. The Marine Corps classified the 24-year-old Marine translator as a "deserter" following his disappearance June 19th. That status was changed to "captured" after Hassoun was seen on videotape broadcast by Al-Jazeera eight days later.
Hassoun is expected to return to Camp Lejeune, North Carolina--his home base--within the next several days.
Lt. Col. Dave Lapan, U.S. Marine Corps Spokesman: "In the time that he's been here, he's not expressed any reluctance to return to full duty."
Marine Corporal Wassef Ali Hassoun: "This was a very difficult and challenging time for me. Since my release, I have been fully participating in the repatriation process. I would like to tell all the marines as well as those who are serving in Iraq to keep their head up and spirits high. Once a marine, always a marine. Semper fi."
The Naval Criminal Investigation Service is not expected to question Hassoun until his repatriation procedure is completed. Marine officials say it may be weeks or months before Hassoun returns to active duty.
×
Most recent Utah stories