Estimated read time: 2-3 minutes
This archived news story is available only for your personal, non-commercial use. Information in the story may be outdated or superseded by additional information. Reading or replaying the story in its archived form does not constitute a republication of the story.
Samantha Hayes Reporting A 27-year-old woman disappeared while jogging in City Creek Canyon this morning.
"We have to find her," says her mother, Thelma Soares. "We just have to find her." "This is not characteristic of Lori. She would not leave and not let us know."
Police and dozens of volunteers searched into the evening for Lori Hacking. But so far they've found nothing.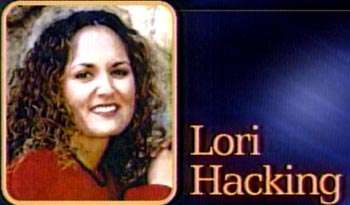 Lori had made plans with her husband to see a movie this afternoon, so she wanted to get a workout in early.
Around 5:30 am she arrived at the entrance to Memory Grove, parked the car outside the gate, and started her run up the canyon.
She planned on a 30-45 minute work out, then back home to wake up her husband, Mark. When that didn't happen, he thought she was already at work. He called there first.
"She never made it in this morning," he said. "I panicked. I called police, came over here and found her car."
Police and rescue teams searched on the ground and from the sky.
"We are hoping she has just gotten off the main trail," said Salt Lake City police detective Dwayne Baird.
Dozens of volunteers got the word out.
And Lori Hacking's family, holding on to one another for strength, pleaded for her safe return.
"I only have two children. I have a son and I have Lori. I can't imagine my life without Lori anymore," her mother said.
Until this point, Lori and Mark Hacking were preparing for a move to North Carolina, for Mark to attend medical school.
"It's hard because when I'm searching I'm not looking for somebody sitting on a rock or walking around. I know I'm searching for someone who is hurt," Mark said.
And the couple had more exciting news--a baby on the way.
"Not only they, but all of us were looking forward to this new little grandchild," Lori's mother said.
"On her worst day of my life, it's good to feel some comfort from the community," Mark said.
Many of them are strangers, touched by the story and compelled to help.
Thelma pleaded, "If anyone has her, if anyone has kidnapped her, she's just a little thing, about five foot two. Please bring her back."
The search continues in the morning, and Mark says, "If you can make it, please come."
Here's some information for those of you who would like to help with the search tomorrow.
The meet time is 6:45 am at the Medals Plaza parking lot, which is at 300 West between North and South Temple.
Buses will take searchers to Memory Grove.
The search will start at 7:00.
You should dress for warm weather, wear hiking shoes, and bring lots of water.
×
Most recent Utah stories