Estimated read time: 1-2 minutes
This archived news story is available only for your personal, non-commercial use. Information in the story may be outdated or superseded by additional information. Reading or replaying the story in its archived form does not constitute a republication of the story.
Sam Penrod ReportingPeople in Wayne County spent the day cleaning up after a flash flood in the small town of Bicknell.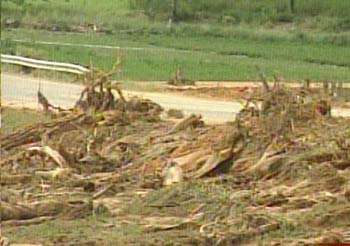 It was about 5:00 yesterday when a big rainstorm hit, washing logs and boulders across Highway 24. People couldn't drive on the road for a few hours until the water stopped and the road was cleared of debris.
Residents say it rained so hard they were worried about what would come down the mountain. A muddy mess of mud, boulders and logs litter what was once the parking lot of what was once the dentist office of Graydon Briggs.
Graydon Briggs: "A patient says, 'You've got a water problem out there.' So I came out and looked and the flood's coming down."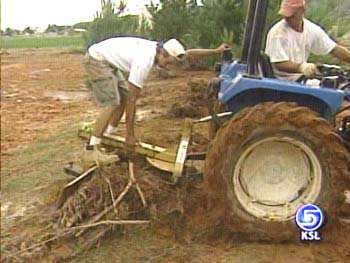 The flash flood hit Monday evening after a heavy rainstorm dumped nearly an inch of rain in thirty minutes. A few minutes later, a stream turned into a raging river.
Patrick Briggs: "It was rushing all over through here. The main river was right through the middle of this parking lot, right where all these hills are. And it was headed straight down there and it carried about half our fence, all those logs you see."
The rain came too fast for the red rock canyons above Bicknell. At least two feet of red sand carried the area. The local high school also was damaged by the flood waters.
This isn't the first time this has happened. Residents say the same area has been flooded at least three times in the last twenty years.
×
Most recent Utah stories