Estimated read time: 3-4 minutes
This archived news story is available only for your personal, non-commercial use. Information in the story may be outdated or superseded by additional information. Reading or replaying the story in its archived form does not constitute a republication of the story.
**Funeral services for Elder Neal A. Maxwell will be at noon Tuesday at the Salt Lake Tabernacle, followed by private burial services at the Salt Lake City Cemetery.**Carole Mikita Reporting
Elder Neal A. Maxwell of The Church of Jesus Christ of Latter-day Saints died last night after a long battle with leukemia.
Elder Maxwell died just before midnight on the 23rd anniversary of becoming a member of the Quorum. His family, colleagues, church members and friends outside his faith are remembering him as a thoughtful man who wrote and spoke with eloquence.
Elder Maxwell: "There are clusters of embers embedded in each of your lives and these can help us, 'to remember how merciful the lord has been', he certainly has been to me."
Neal Ash Maxwell was born in Salt Lake City, July 6th, 1926. He was described as a thoughtful child. Before serving a mission in Canada, he served in the Pacific in World War II.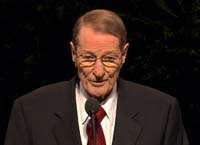 #maxwell_conf
In 1950 he married Colleen Hinckley. They went on to have four children and 24 grandchildren.
Jane Maxwell Sanders, Daughter: "I remember growing up and having him, he'd actually mail letters to us where he would praise specific things in us that he admire, and we always felt like we were so valued."
His church colleagues describe him as having an incisive mind. They say his gifts of writing and speaking made him a man for this time.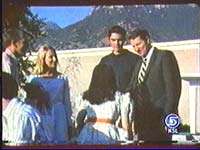 Elder Henry B. Eyring: "He's as gifted as anyone I've ever known in the use of language. If you listen carefully, the depth of the ideas are what really strike me."
Elder Maxwell was diagnosed with leukemia eight years ago. Many remember a poignant moment following a hospital stay and chemotherapy.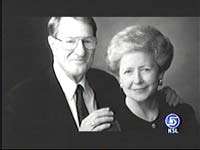 Elder Maxwell: "My thanks to the first presidency for this opportunity during which, as you can see, the lights combine with my cranium to bring some different 'illumination' to the pulpit."
A graduate of the University of Utah, he also held teaching and administrative positions there.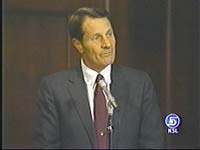 Jim Jardine, Former Student: "I believe that he was a great representative of the LDS church with non-LDS faculty members and administrators."
In 1999 he joined in the dedication of the then new Huntsman Cancer Institute.
Elder Maxwell: "The human spirit, with its spiritual genes, is too large to surrender to tiny cancer cells."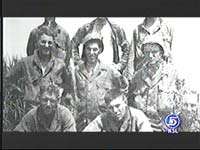 Elder Maxwell had a community presence. Utah's Episcopal Bishop credits Elder Maxwell with building bridges of faith.
Bishop Carolyn Tanner Irish, Episcopal Diocese of Utah: "He did a great service to our entire community in that respect. We need bridges, we need conversation and communication; he was a wonderful person."
Once called a poet in the pulpit, Elder Maxwell spoke from time-to-time about leaving this life.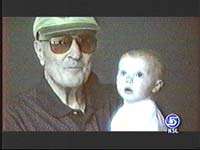 Elder Maxwell: "Death is only a comma, not a period or a quotation mark…The lord knows how many miles we have to go before we sleep."
Elder Maxwell was 78. He died surrounded by his family.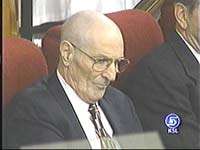 The funeral will be held next Tuesday the 27th at noon in the Salt Lake Tabernacle. There will be no public viewing.
×
More stories you may be interested in