Estimated read time: 2-3 minutes
This archived news story is available only for your personal, non-commercial use. Information in the story may be outdated or superseded by additional information. Reading or replaying the story in its archived form does not constitute a republication of the story.
John Daley reporting There was a poignant ceremony in Bountiful Monday evening, for a high school student struck and killed by lightning 10 days ago in West Valley.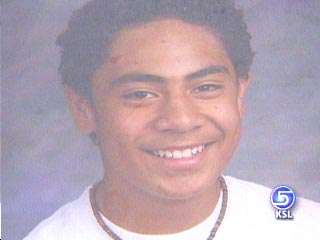 A family, a team, and a high school are rallying around the memory of Marion Toko, a sophomore at Bountiful High School. Marion was described as having a "big smile and a big heart."
If high school is all about learning, the students are of Bountiful High are getting some life lessons they never expected this year: Saying goodbye to teammate and friend Marion Toko, killed by lightning.
Larry Wall, Bountiful High Football Coach: "As good a player as Marion was he was better person."
Jake Magalei, Bountiful High Junior: "He was a friend to everybody. He was a friend to our whole team. I dare say everybody was pretty close to him."
Jac Wood, Bountiful High Senior: "He was one of those guys that was always coming into the room, he'd be smiling, he'd always be joking and laughing and stuff."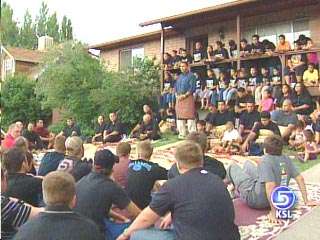 Tyson Schwab, Bountiful High Senior: "He was a brother to our football family. It was really like losing a brother and a friend."
The team caravans over to the Toko family home, where they join a ceremony they won't forget.
With a large extended family looking on family elders, speaking Tongan, conduct a Polynesian funeral, complete with a barbeque, gifts, and many emotional words for Marion.
The team brings one of his jerseys, framed, and a helmet. All players will wear a black decal with Marion's number.
It's all too much for his mother.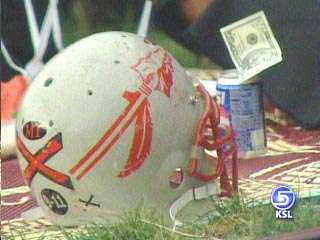 The team has been state champions the past two seasons, and Marion's mom says she'll attend every game this year.
Vasimata Toko, Marion's Mother: "I will be wearing his jersey in the game. And I will play with you in the game."
Marion's friends also bring thousands of dollars collected to help his family with expenses.
Vasimata Toko, Marion's Mother: "Marion has touched his spirit to everybody. His friendship has touched everybody...he's a cool guy....I think his friendship makes everybody's heart."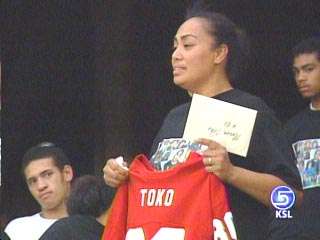 The team and the community raised nearly 7-thousand dollars for Marion's family, to help with burial and hospital expenses.
They hope to add to that with a car wash Car Wash and Garage Sale at Bountiful High School on July 31st from 8:00-12:00 and will also be taking donations at any Zion's bank in the name of Marion Toko.
×
Most recent Utah stories