Estimated read time: 5-6 minutes
This archived news story is available only for your personal, non-commercial use. Information in the story may be outdated or superseded by additional information. Reading or replaying the story in its archived form does not constitute a republication of the story.
VIDEO: View the latest news conference (Tues. 4pm)The family is asking for searchers trained in the use of ATVs, Horseback Riders, Search and Rescue, Dogs, Aircraft, etc. If you are interested, send an email to findlorisearch@yahoo.com. Include your specialty/expertise and your contact information.
Samantha Hayes and Sandra Yi reporting
Family members cleared out the apartment belonging to Mark and Lori Hacking on Tuesday, while the search for Lori shifted from an urban volunteer force, to skilled searchers with proper equipment and technical know-how.
Lori is still missing, and has been for over eight days now. Her husband Mark remains in a psychiatric ward, still the only "person of interest" police have in the case.
Detectives say they are still following up on leads. That included searching the Salt Lake County landfill for the second night in a row Tuesday.
But for the most part they say they have collected what they need, except for the most important evidence of all--Lori Hacking.
Detective Dwayne Baird says, "Our situation is such that we obtained what we needed to the investigation and had so early on."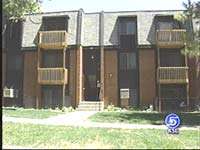 Family members, instead of a moving company, came to take Mark and Lori Hacking's belongings out of their apartment on Tuesday. Most of their belongings were already packed because the couple was planning to move to North Carolina, where Mark Hacking lied about being enrolled in medical school.
The apartment had been closed off by police, but investigators refused to call the residence a crime scene.
Detective Baird: "We had been there and done what we needed to do in a timely matter and were able to release it back to the family."
Police have not commented on materials gathered in their investigation including reports of bloodied bedding and a knife with blood on it in the apartment.
They did say, however, they got much of what they needed early on, saying "We were very thorough in what we have done."
And a second search of a Salt Lake County landfill Monday night did not turn up anything substantial.
Police spent the night combing the landfill for evidence using cadaver dogs, which had searched the area before but were called off for another project.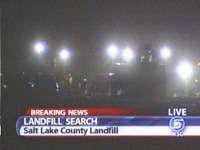 The dogs just became available again. Police say the dogs also work better at night in cooler conditions. The search started just before 10:00 pm Monday and continued into the early hours of the morning.
Without elaborating, police say they also know much more about the only one named as a person of interest, Mark Hacking.
"As far as going into detail, I would only say that the medical school was the pinnacle of that deception. Everything below that you could even imagine, that would encompass your plans to do something like that and carry that out, would obviously be part of that deception," Detective Baird said.
Meantime, the family announced Tuesday morning that the volunteer search for Lori is changing, with search efforts re-focused.
Scott Dunaway, Family Spokesperson: "For now the organized search effort we're going to bring that to a close, and move to a new phase."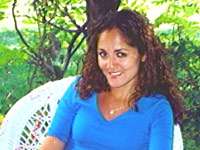 Both Lori and Mark Hacking's families decided the time has come to call off general volunteer search efforts.
According to the family spokesperson, it was being seriously discussed last night, and finally decided this morning.
Both families say they are grateful for the volunteers that have donated their time and efforts to search Memory Grove and nearby neighborhoods for Lori, but say now it's time to leave it up to the professionals.
Volunteers are being turned away from the LDS chapel that has been the volunteer command post in the hunt for Lori Hacking.
Scott Dunaway, Family Spokesperson: "For today, we're asking volunteers not come to the center."
The Hackings and Soares say they made the decision in interest of safety.
Scott Dunaway, Family Spokesperson: "They've become concerned about the areas volunteers are being sent, they feel that some of them are risky."
Now the family will begin to use professional search crews. However, they're asking anyone with specialized skills - - those who have received training in searches or those who can do aerial searches - - to participate.
The family is urging everyone else, to continue looking for any sign of Lori. They're asking us to keep our eyes open for anything suspicious, and report any information that may be helpful in this case, to police.
The family spokesperson insists the decision to change the search was entirely up to the family, and has nothing to do with the fact that cadaver dogs were searching through the Salt Lake County landfill.
Scott Dunaway, Family Spokesperson: "We have not been in contact with police."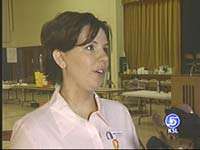 Meanwhile, another co-worker of Lori's at Wells Fargo has been in contact with police. Melissa Sugden remembers that the Friday before Lori went missing she was visibly upset.
Melissa Sugden, Worked with Lori: "I said 'Hey Lori, what's up?' and she said 'Nothing,' and started walking away. And I said 'Are you sure?', and she said 'Yea,' and then she got in her car and zoomed right past me, didn't even wave."
It was only later that Melissa learned about the phone call that might have triggered Lori's tears. Co-workers of the missing jogger say she received an upsetting phone call from the University of North Carolina medical school on July 16. Co-workers tell The Associated Press she left work in tears after finding out her husband was not enrolled there as he said.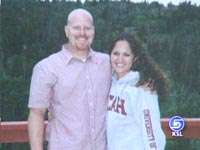 Her husband has been labeled "a person of interest" by police.
Also tonight, police say they don't need tips on discarded mattresses.
Mark Hacking was at a store buying a new mattress just before reporting his wife was missing.
Detective Baird says people do not need to call police about mattresses. He would not say if they recovered a mattress.
(The Associated Press contributed to this story)
×
Most recent Utah stories