Estimated read time: 3-4 minutes
This archived news story is available only for your personal, non-commercial use. Information in the story may be outdated or superseded by additional information. Reading or replaying the story in its archived form does not constitute a republication of the story.
Keith McCord ReportingVice President Dick Cheney made a visit to Salt Lake today. He appeared at a fund-raiser for 2nd District Congressional Candidate John Swallow.
Mr. Cheney was only here for about an hour and seven minutes. But when the election is less than 100 days away, you hit as many cities, and stump for as many candidates as you can. Mr. Cheney has been in four western states in the past two days campaigning for Republican candidates. This morning, he and his wife Lynne visited Salt Lake City on behalf of candidate John Swallow.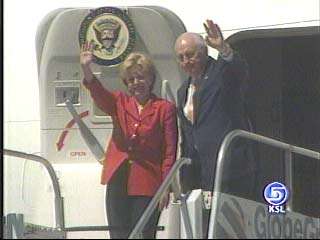 At a fund-raising luncheon at Little America Cheney said he was excited about his own campaign, especially now that he has an opponent.
Vice President Dick Cheney: "People keep telling me, they say Senator Edwards got picked because he's charming, good-looking, sexy. I said, how do you think I got the job!"
Mr. Cheney made an appearance here two years ago when Swallow ran the first time against Jim Matheson, losing in a tight race. The Vice President thanked the 300-plus Republicans gathered at today's luncheon for their past and continued support.
Vice President Dick Cheney: "The President and I are proud to be on the ballot with so many fine candidates in this state, and we have no doubt that Utah will have excellent leadership again next year."
After an introduction from his wife Lynne, Dick Cheney spoke for about 20-minutes, touching on everything from the war on terrorism, the economy, and taking a few political jabs at the goings-on in Boston.
The race for Utah's 2nd District is expected to be close again and images with the Cheney's and the Swallows in a perfectly choreographed photo-op, certainly gives a campaign a nice nudge.
Joe Cannon, Chairman, Republican Party of Utah: "Just gives it a lot of added impetus going forward. We're going into the last 100 days, and to get across the finish line, John's going to have to work hard and it's hard to overstate how important this is."
There were a lot of smiles and applause, and thousands of dollars raised inside the hotel ballroom today. But not everyone was happy to see Dick Cheney.
Across the street from Little America was an unusual demonstration. Several dozen members of the U.S. Public Interest Research Group had a "21-chainsaw salute" to protest what they call, the Bush administrations proposals to "gut protections for America's national forests." A few feet away was a handful of people representing the Lyndon LaRouche organization.
Judy Twede, LaRouche Org. of Salt Lake: "We believe that Cheney is really the one running this government, not Bush. Bush is a puppet, and Cheney is the puppet-master."
And that's not all, The Southern Utah Wilderness Alliance rallied outside as well, calling for a more balanced approach to oil and gas development.
After the speech today, the Vice President and his wife flew to Jackson, Wyoming where they have a home for a couple of days of R & R. Then next weekend, it's back to campaigning.
×
Most recent Utah stories