Estimated read time: Less than a minute
This archived news story is available only for your personal, non-commercial use. Information in the story may be outdated or superseded by additional information. Reading or replaying the story in its archived form does not constitute a republication of the story.
A construction worker was injured today in a hit-and-run accident.
Utah County Sheriff's deputies say the flagman was working on State Road 73 near Eagle Mountain when a red car going about 50 miles an hour slammed into him, then took off.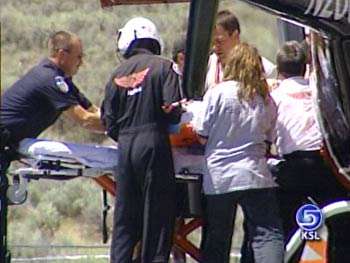 A driver following the red car saw the whole thing.
Phillip Case, Witness: "What caught my attention is when I saw stuff starting to fly in the air. And then I tuned into, 'Oh something's happening, slow down.' Then I notice a man laying there and a car taking off. And it looked like they were increasing their speed to get away."
The witness debated following the red car or stopping to help. He decided to make sure the victim was okay. The worker is in stable condition.
Authorities found the car on State Road 68 and arrested its driver.
×