Estimated read time: 2-3 minutes
This archived news story is available only for your personal, non-commercial use. Information in the story may be outdated or superseded by additional information. Reading or replaying the story in its archived form does not constitute a republication of the story.
John Hollenhorst ReportingFor more than two generations Southern Utahns have been haunted by the mushroom clouds of nuclear testing and by the cancers they may have caused throughout the region. Today in Salt Lake, many cancer victims argued the government still has failed to admit the full scope of the problem.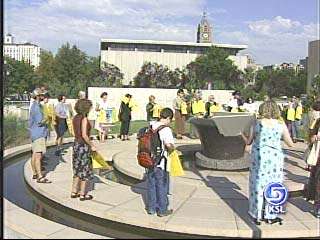 The Nevada nuclear tests in the 1950's and 60's left a bitter legacy in surrounding states. At a hearing by a panel of experts from the National Academies, the legacy took the form of a litany of loved ones.
Downwinder: "I lost my father, my mother and my brother."
Downwinder: "Her oldest sister died of brain cancer. Her youngest brother had melanoma. Her father died of lung cancer."
Rep. Jim Matheson, D-2nd Dist: "Utahns paid a heavy price for trusting their government and for being in the wrong place at the wrong time."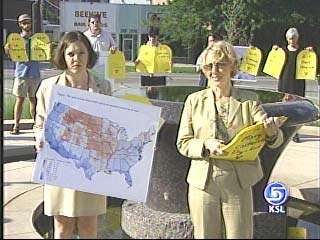 The federal government has already paid out three-quarters of a billion dollars to cancer victims and their families. But downwinders want a much broader compensation program and a deeper admission of responsibility.
Mary Dickson, Downwinder: "The evidence clearly bears out how many people in this country are downwinders, poisoned by our own government."
Currently, downwinders can be compensated only if they lived near the Nevada test site, in Southern Utah and Nevada or Northern Arizona.
But testimony today indicates the effects of the bomb blasts were far-reaching. At least in some tests, high-altiitude fallout rained down and created hot-spots in Midwest and Eastern States.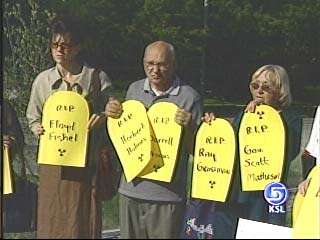 Richard Miller, Researcher: "Utah, actually I believe, is number six. Nevada is way down the list after places like New York."
Critics of the compensation program want it expanded to include more regions and more diseases. Some believe the government has resisted more research because of a secret agenda.
Ihla Nation, Colorado Downwinder: "If they accepted responsibility they would be admitting that nuclear testing is dangerous to American citizens, and they couldn't in good conscience resume testing. And that's what they really want, the power to do it again."
Many downwinders have called on Congress to cut funding that may lead to a new generation of nuclear weapons.
Besides downwinders, two other categories currently qualify for payments: people who worked at the Nevada test site or in certain uranium industry jobs.
×