Estimated read time: 3-4 minutes
This archived news story is available only for your personal, non-commercial use. Information in the story may be outdated or superseded by additional information. Reading or replaying the story in its archived form does not constitute a republication of the story.
John Daley ReportingTen days after she mysteriously disappeared, the search for Lori Hacking continues. But finding something in a huge landfill is turning into a monumental task.
Salt Lake City police will continue to follow what they call "promising leads," but an intensive search for evidence at the Salt Lake Solid Waste Facility has so far turned up nothing.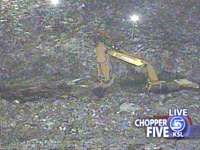 The past three nights police and search dogs have sifted through mountains of trash. It's a grisly and uncertain job, one that may or may not turn up anything significant. By night it looks like a daunting task digging through piles of waste with only spotlights, a shovel truck, and specially trained odor-sniffing dogs.
By day you can see it's a needle in a haystack search--when the haystack is a monumental 550 acres in size with 500 plus vehicles a day dumping 2500 tons--70 percent of the Salt Lake Valley's waste. There is a system to it--but it's not very exact.
Romney Stewart, Exec. Director, Salt Lake Solid Waste Facility: "Generally speaking, within an acre or so we pretty well know where we are within a few weeks or a month. But you know we don't keep actual track for long periods of time."
When searching there, time is of the essence.
Romney Stewart: "More than a few hours, it gets buried 15 feet deep per day and is compacted and mixed with other materials. It's very difficult more than an hour or two."
The day after Lori was reported missing police called the landfill and disposal was then switched to a different location, but that was after 600 trucks had come in.
Phil Eslinger, Salt Lake City Police: "There's a certain quadrant of the landfill that items are dumped in for the particular day of the week, and that is the area we have concentrated our search in."
KSL news crews on the scene the last few nights say they've seen flash photography and what appears to be a narrowing focus on one area. But so far, police say they've come up with nothing.
Given the volume of garbage, it's conceivable no evidence will surface. Case in point: nearly six years ago in Arizona, Tempe homemaker Cookie Jacobson disappeared. Police were sure she was murdered. They searched the area landfill 59 days, but Jacobson's body was never found.
Charges were never filed, despite blood in a trash can and an admission by her teenage children that they dumped her body.
The investigation chewed up more than 15,000 man-hours and about $600,000 as crews sifted through 8,000 tons of garbage but found no body
Police still believe the teenage children killed their mother. They were arrested early in the investigation, but released hours later. Legal experts said getting a murder conviction without the body or other physical evidence would be next to impossible.
Tempe police still consider the teens primary suspects and still believe Cookie Jacobson is buried in the landfill.
Here in Salt Lake police say they will search the landfill until the search is done, but have "no idea how long" that will take.
We asked the police spokesman how long investigators would search the landfill. He said until the search is done; he said he has "no idea how long" that will be. Police say they do not plan to search tonight, saying the dogs need a rest.
×