Estimated read time: 1-2 minutes
This archived news story is available only for your personal, non-commercial use. Information in the story may be outdated or superseded by additional information. Reading or replaying the story in its archived form does not constitute a republication of the story.
(KSL News) -- We're at the time of year when we are dealing with wildfire. At last report, the fire near Devil's Slide had burned more than 40 acres.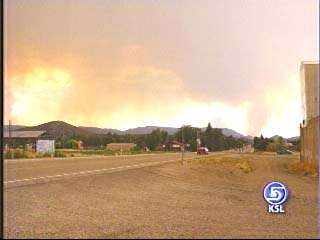 It's not far from the town of Cryoden, north of Interstate-84. It's human caused. Ten smoke jumpers, a crew of 60 on the ground, and a helicopter are working on the fire.
Also, a large fire is burning across more than 400 acres in Spanish Fork Canyon. The fire is burning grass, pinion and juniper in the Diamond Creek and Sheep Creek areas.
Authorities believe lightning hit some junipers Monday, but the flames didn't spark and spread until last night.
They had the blaze almost contained this afternoon until winds picked- up and fanned the flames.
The main concern is nearby power lines. The flames short-circuited one large, mega-watt line this afternoon. Crews quickly re-engergized the line and no one lost power.
The fire is 10 percent contained and they expect to have the blaze completely controlled by next Friday.
And the lightning-caused Westside Complex fires near Enterprise have now burned an estimated five-thousand acres. Because of the location and terrain, firefighters aren't trying to put these fires out. They have a crew there to monitor the fire and keep it away from anything that would jeopardize public safety.
×