Estimated read time: 2-3 minutes
This archived news story is available only for your personal, non-commercial use. Information in the story may be outdated or superseded by additional information. Reading or replaying the story in its archived form does not constitute a republication of the story.
John Daley ReportingMore than two years after the Salt Lake Olympics former organizing committee chief Mitt Romney is back in Utah. Romney--now governor of Massachussetts--is here to promote his new book, which trumpets his role in saving the Games.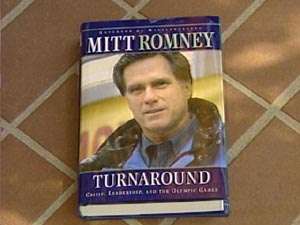 Mitt Romney's new book is called "Turnaround." It's just the kind of book guys who run for president often write, but Romney says he currently has no plans to run.
Romney recounts the "enormous obstacles" he faced restoring confidence in the Games after the Olympic bribery scandal, and, according to the press release, "how he was able to lead one of the largest turnaround stories in US history--earning him the nickname 'savior of the games.'"
Gov. Mitt Romney, Former SLOC CEO: "I was really lucky that the team that had been placed together that had been built by Frank Joklik and before him by Tom Welch was really a solid team. I added some more people. That was the good news. But how tough the challenge was was the biggest surprise."
In the book Romney mostly has high praise for a number of people, particularly the lieutenants on his team. But he's also got some pointed words for a number of people, including leaders of the USOC, billionaire Earl Holding, Tribune reporter Linda Fantin, former Olympic leaders Tom Welch and Dave Johnson, and the federal prosecutors who tried the Olympic case.
Gov. Mitt Romney: "It's not a Sunday school book and it's not a children's book. It tells it like I saw it."
Also interesting are some of the things Romney does not discuss. There's no mention of some of the controversies related to the bribery scandal, no mention of documents shredded at the firm of the bid teams' lawyers, or his efforts to convince Welch and Johnson to plead guilty in the Olympic case.
Most of all, Romney in this book makes the case for his own leadership skills, and just in time for the next Olympics in a few weeks.
×