Estimated read time: 2-3 minutes
This archived news story is available only for your personal, non-commercial use. Information in the story may be outdated or superseded by additional information. Reading or replaying the story in its archived form does not constitute a republication of the story.
Statement written by Lori's mother, Thelma Soares, on behalf of herself, Lori's father and her brother Paul. My family and I are profoundly anguished to lose Lori, our precious daughter and sister. Our lives will never be the same and we will grieve for her and miss her until the day we die. But when that day finally arrives, we know with absolute certainty that she will be there with open arms to greet us and our reunion will be glorious. Until then, we know where she is and who watches over her.
To the wonderful Hacking family who has shared this double tragedy with us, may Heavenly Father strengthen you in the difficult days ahead. You know of our love for you.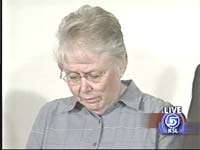 To the Elizabeth Smart family, you have been an unending source of guidance, support and love, both in organizing the volunteer search effort and on a very personal level.
To our dear extended families, kind neighbors, personal friends, church congregations, work colleagues and the multitudes of people near and far who have prayed for Lori and for us, God heard your prayers and the comfort we have derived from them has enabled us to endure this ordeal.
To the thousands of volunteers who have given your time to search for Lori, your sacrifice and dedication have overwhelmed us.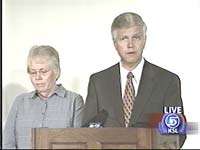 To Lori's many friends, former roommates and work colleagues, please know that you are part of our lives because Lori knew and loved you. You are welcome in our home.
To those who have sent or quietly slipped money into our hands or pockets, we are humbled by such generous caring. We consider these funds sacred and every dollar that was not used to search for Lori will be used to establish a scholarship or other type memorial to honor her name.
To all the mothers who have written their love to me personally, I thank you. We share a mother's heart.
We thank all of the corporations and individuals who so generously donated goods and services.
We are truly grateful to the Salt Lake City Stake for offering the use of its stake center for use as our search headquarters.
The letters and pictures written and drawn with crayons, along with the little handmade gifts sent to us from children have touched our hearts and strengthened our faith in the rising generation and the goodness of people everywhere.
We thank the Salt Lake City Police Department for their diligence in this investigation.
And finally, we especially thank the media who have kept Lori's beautiful little face before the public and wept with us off camera.
Mere words cannot begin to express our gratitude to everyone. You hold a very special place in our hearts and always will.
God bless you all for your outpouring of love and support. Now, please let us mourn for our little Lori in private.
×
Most recent Utah stories