Estimated read time: 7-8 minutes
This archived news story is available only for your personal, non-commercial use. Information in the story may be outdated or superseded by additional information. Reading or replaying the story in its archived form does not constitute a republication of the story.
VIDEO: View the Surveillance Video
(Due to heavy demand for streamed video, you may experience delays.)
Mark Hacking is in the Salt Lake County jail this morning, on suicide watch, accused of murdering his wife. Police arrested him yesterday when they learned he was leaving psychiatric care, where he's been for two weeks.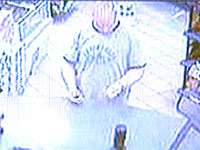 A new survelliance video from the convenience store that Mark Hacking frequently visited shows the murder suspect on the morning his wife was reported missing.
Police say Mark Hacking entered the Maverik store around 1:00 the morning of July 19. They believe he went to the store after he killed his wife.
The tape shows Hacking keeps checking his hands as he pays for his purchase, leaves the counter, returns to get his change, and then leaves in his wife's vehicle.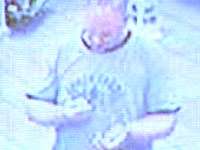 That very same vechile was found at Memory Grove a short time later, where Mark said Lori had gone for an early morning run.
Lori Hacking, 27, an assistant stockbroker, has not been seen since late July 18. Mark Hacking reported her missing the following day, telling family, friends and police that she failed to return from that morning jog.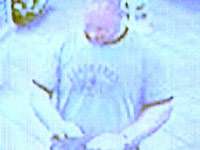 Cracks soon emerged in her husband's timeline and overall credibility, and police later said it was likely Lori never made it to the park. "We believed very early in the investigation that she may have been a victim of a crime and her husband may have been responsible," said Police Chief Rick Dinse.
Now, two weeks later, Mark Hacking sits in the Salt Lake County Jail, arrested on suspicion of murder, and under a suicide watch.
Investigators believe Hacking killed his pregnant wife Lori at the couple's home, and that key evidence taken from Lori Hacking's vehicle, the apartment, a trash dumpster and a confidential informant point to her husband Mark.
Police say they believe they know what the murder weapon was and have a potential motive, though they won't say what they are.
Chief Dinse told KSL NewsRadio this morning that the information from the informant is important to the case, but so is all the evidence gathered.
Police believe Lori's body is at the Salt Lake County Landfill where exhaustive searches, using cadaver dogs have come up empty.
The brother of Lori Hacking says this morning that her death and the circumstances surrounding it are unimaginable.
Paul Soares told "The Early Show" on CBS that it's a shock, and says "you just don't know what someone's capable of."
Paul Soares says he feels sorry for the Hackings because they're a wonderful family. He also says he didn't see any warning signs leading up to his sister's death.
Mark Hacking's attorney, Gil Athay, says he and his client were expecting the arrest.
Athay says he and Mark Hacking were in negotiations with the District Attorney's office for almost a week.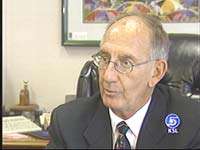 Athay agreed to notify the D.A. if Mark was to be released from the hospital. And if so, Mark would be surrendered to authorities.
Athay says he's now in the preliminary stages of buidling his case.
Gil Athay/Marking Hacking's Attorney: "We do hire investigators, we do our work, we prepare what we need to. We employ our experts, we get our experts up to speed."
Athay believes official charges will be filed in the next few days, and says those charges will impact how he plans Mark's defense.
Athay is not sure prosecutors will seek the death penalty.
He also responded to speculation of an insanity plea. He said it's not impossible, but can be hard to prove.
Athay: "You basically have to prove that the person perceives that he or she is killing something other than a human being."
Athay says he has yet to see the evidence, and will not have access to any of that information until after charges have been officially filed.
Prosecutors have 72 hours from the time Mark was placed in jail to file those charges against him.
And because an aggravated murder charge is so serious, jail officers tell us Mark Hacking cannot post bail.
Police say they could have arrested him earlier, but used extra time to build their case.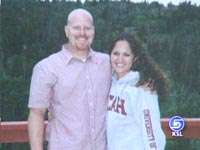 The key piece of this puzzle still missing this morning-- Lori Hacking's body.
Tomorrow the search resumes at the Salt Lake County Landfill. That is where police believe Hacking's body has been since she disappeared two weeks ago.
And despite police admitting they were tipped off about the landfill early in the investigation, and that Mark was caught lying quickly, it was still necessary for volunteers to search Memory Grove Park and City Creek.
Chief Rick Dinse, Salt Lake City Police: "On the offside that she may have been there, and not in landfill, wanted a very thorough search done, so that search was very important and helped us, it also helped the family and we think that's important also."
From the few clues released by police, it appears Mark Hacking placed Lori's body in a trash container which was then emptied into a garbage truck.
All the trucks that dumped their loads that first day and early the next morning did so in a specific area.
Right now the search area appears to be less than the area of a football field.
Dwayne Baird/ Salt Lake City Police Dept.: "We do feel we have it isolated. They actually cordoned that material off with the GPS system, so they know exactly where to go back to it."
Rick Dinse/ Salt Lake City Police Chief: "It is a terrible job to do. They have done it. They have volunteered to do it. They're all committed to try and locate Lori."
Police had said earlier that the landfill search would not resume until Friday.
But they learned yesterday the cadaver dogs would be available tomorrow.
As police continue to build their case against Mark, it's all still sinking in for the Hacking and Soares families. Both sides are coping with a very grim, heart -wrenching reality-- that Lori is gone.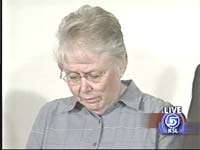 Lori's mother, Thelma Soares, remained silent yesterday during a press conference as the family spokesman read her statement.
She reached out to Mark Hacking's parents, as she publicly shared her love for them.
Scott Dunaway/ Family Spokesperson: "To the wonderful Hacking family who has shared this tragedy with us, may Heavenly Father strengthen you in the difficult days ahead. You know of our love for you."
Thelma Soares also thanked Salt Lake City Police, and the thousands of volunteers who spent countless hours searching for her daughter.
The family said they will miss Lori everday, and while she may be gone they do say they believe they will be with her again someday.
Meantime, Mark Hacking is under very close observation in the Mental Health Unit of the Salt Lake County Jail this morning. Much like a room at the State Hospital, authorities there have removed from his room anything Mark might use to hurt himself or take his own life.
Aside from basic furniture, everything is removed.
In a room at the State Hospital, fixtures are either tamperproof or covered. This room has a camera in the corner in case someone needs a 24 hour watch.
In the case of the Mental Health unit at the jail, someone checks on the occupant every fifteen minutes.
The food served in the unit is the same for any other inmate - unless modified under orders from a doctor.
Doctor Frank Rees at the State Hospital says once someone is taken to jail and the reality of a crime hits home, the suicide rate dramatically increases, especially if the emotional stability of that individual is already compromised.
Dr. Frank Rees, Psychology Director, State Hospital: "Statistically, when people are first admitted to jail or first admitted to prison, there is a much higher likelihood of a suicide attempt at that point than at any other point in their incarceration."
Jail personnel are also equipped to handle inmates with special psychiatric conditions.
And experts say it would be difficult for Mark Hacking, or anyone else, to fake a mental condition.
(The Associated Press contributed to this story)
×
Most recent Utah stories