Estimated read time: 2-3 minutes
This archived news story is available only for your personal, non-commercial use. Information in the story may be outdated or superseded by additional information. Reading or replaying the story in its archived form does not constitute a republication of the story.
Sam Penrod ReportingYet another large fire burns in the Salt Lake Valley. This time a recycling center went up in flames, but the business may be to blame for letting the fire get out of control.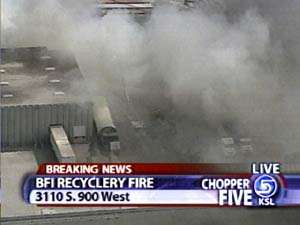 Firefighters believe the fire started accidentally, probably a spark from some machinery. But apparently workers tried fighting the blaze themselves before calling 911, and by then the fire had spread to three separate places.
The three alarm blaze consumed tons of paper, cardboard and plastic about to be recycled at the BFI recycle center. Chopper Five was first on the scene.
Dan Brown, Chopper Five Pilot: "We have a third fire south of the semi so actually there is three separate fires."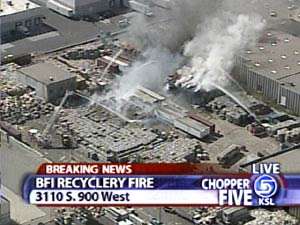 Firefighters brought in ladder trucks, pouring thousands of gallons of water on the blaze, keeping the fire from spreading to other businesses.
The fire broke out in the area where compressed bales of plastic, cardboard, and paper are stored before they are recycled. Extinguishing materials compacted for recycling takes time.
Steve Foote, South Salt Lake Fire Chief: "We're in the process of creating room, so we can break these bales apart and basically drown them, that's all we can do."
This blaze is the latest in a string of big fires in recent weeks: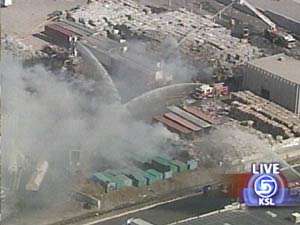 June 14th at the Stock Building Supply in West Jordan arson destroyed a lumber yard; eco-terrorists took responsibility.
July 16 a spectacular fire destroyed large paper rolls at Smurfit-Stone. Fire investigators later determine it was arson
July 23, a fast moving fire consumed the Jeffrey Cobabe woodshop. This fire is ruled accidental
Firefighters are relieved they don't have another arson case on their hands. There are still no arrests in those two arson fires.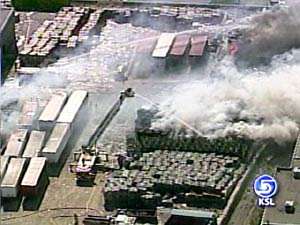 The real damage from today's fire is to all of the products that were about to be recycled, it will all now have to go to the dump. Overall it caused about $200,000 in damage.
×