Estimated read time: 2-3 minutes
This archived news story is available only for your personal, non-commercial use. Information in the story may be outdated or superseded by additional information. Reading or replaying the story in its archived form does not constitute a republication of the story.
Debbie Dujanovic ReportingThe search for Lori's body has turned up nothing except another potential safety issue, Methane gas. The health department says there's enough air circulation out at the landfill, they're not worried about the officers or dogs breathing methane gas, but it can become an explosive. So today a supervisor at the health department asked the landfill to start monitoring for methane.
It's one more hazard officers and the cadaver dogs are dealing with. Today the search area sends off an awful stench. Seven and a half million pounds of garbage exposed -- it's bound to smell bad. But Operations Manager Bud Stanford says Salt Lake P.D. is making good progress in the search for Lori.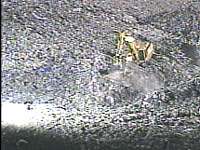 Bud Stanford, Salt Lake Valley Landfill: "It's very difficult to think that a beautiful young lady was murdered, put in the trash and is out here in the landfill, it's difficult to deal with."
Stanford estimates officers are a quarter of the way through their search. The garbage they've already looked through is now covered in a white paste. Landfill employees sprayed it down to keep it from blowing.
The landfill is providing officers with tools to help stir up the trash so the cadaver dogs can do a more thorough job. Officers are also wearing steel-toed boots.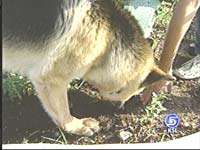 Bud Stanford: "They need to wear something when they're walking in there they don't injure their feet."
With so much glass, Stanford says he's asked detectives to wear jeans, long sleeved shirts, and leather gloves. And-the landfill's offered officers protective breathing masks and special suits, but Stanford says, "They're not wearing them. We've offered them, but they feel confident they don't need to wear them and they feel safe without them."
The area's not considered a hazardous waste site so officers aren't required to wear special masks or suits. Detective Phil Eslinger compares it to wearing bullet proof police vest.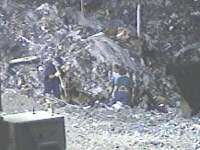 Phil Eslinger, Salt Lake City Police Dept.: "Not everybody chooses to wear one, and that may be their choice, to the extent of what it is that they're going to wear for protective clothing out there."
As for the cadaver dogs, a handler we spoke with says putting protective gear on a search dog is up to the owner, but often it gets in the way. Putting a bootie on a dog actually hinders the animal's ability to dig and search -- so many handlers choose not to.
×
Most recent Utah stories