Estimated read time: 2-3 minutes
This archived news story is available only for your personal, non-commercial use. Information in the story may be outdated or superseded by additional information. Reading or replaying the story in its archived form does not constitute a republication of the story.
Sam Penrod Reporting That fire in Central Utah is still burning tonight. The Salt Creek Fire is burning south of Levan, and is still growing.
Firefighters are making progress on getting this fire contained, but they know they still have a lot of hard work ahead of them.
Firefighters say cloud cover has kept the fire from burning too fast today. Still very little of this blaze is contained, as private land owners watch and wait, hoping firefighters will get it under control.
Smoke and flames continue to burn in steep terrain south of Levan in Juab County. This fire ignited by lightning started yesterday afternoon and took off quickly. Already 1800 acres have been blackened by the blaze.
Karen Feary, Fire Information Office: "We're still in the very early stages, getting the resources on the line. We have six crews and nine engines and four helicopters working the fire. This evening and tomorrow we'll have a better idea of containment."
More than half of where the fire has burned is on private land, belonging to rancher Jack Madsen. His cabin remains the only building in danger, about two miles east of the fire.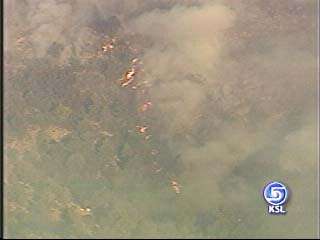 Jack Madsen, Land Owner: "They had a crew there this morning, cleared anything dry from around the cabin, got a dozer in and pushed the oak 300 yards away in case it goes that direction."
But the fire is burning up valuable feed where Madsen's large herd of sheep grazes in the spring and fall.
Jack Madsen: "I'm really concerned about a lot of the area. I've done a lot of reseeding up there and quite of chunk of it got burned."
Fire officials say the above average rainfall in July has kept the fire danger low, but with the return of hot dry weather, the risk of a wildfire anywhere in Utah is increasing.
Karen Feary: "We did have a lot of moisture and now have a lot of grasses, with this drying trend we've had, especially for the next week, everything is really dry, especially high elevation grasses, so if we are going to get a fire now it would potentially be a large fire."
So far, authorities say they have plenty of firefighters available for this fire and they are hoping to get it under control before fire resources are needed somewhere else.
×