Estimated read time: 2-3 minutes
This archived news story is available only for your personal, non-commercial use. Information in the story may be outdated or superseded by additional information. Reading or replaying the story in its archived form does not constitute a republication of the story.
Jed Boal ReportingOne of America's oldest outdoor equipment companies today showed off a new product that could open up camping to many people who have wanted to camp, but couldn't.
Each year there are plenty of new tents on the market. Next spring you'll see one that solves big problems for disabled campers who might otherwise just skip the wilderness experience.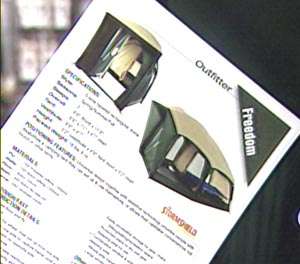 Mike McBee has been camping since he was a teenager, but says spending a night in a tent in the wilderness can be a daunting prospect for people with disabilities. That's why he likes the looks of a Eureka Freedom tent that was specially designed with their needs in mind. He can set it up while seated in his chair, and the tent is big.
Mike McBee: "Before this tent was introduced, we would always have to use a really small tent because that's the only tent you could get all the way around. Then you don't have the storage capacity for like, my chair."
The zippers have big loops -- easy to grab, easy to pull. Mike can roll into the vestibule and leave his wheelchair there while he sleeps, or enjoy the area as a covered porch. There's even room for a private toilette. In the sleeping area both sides open wide; that makes it easier to transfer disabled campers.
Mike McBee: "You just transfer right in. It's hardly a bother at all."
That's an advantage for caregivers too. Designer Dianne Goodwin creates solutions for the disabled and designed a tent with support from a federal grant. She says most manufacturers have overlooked these campers. Goodwin talked with lots of them and used their ideas.
Dianne Goodwin, Blue Sky Designs: "What we'd like to do is impact people in a bigger way. Get products on the market that are more accessible, and raise awareness in the industry that people with disabilities camp."
Mike McBee: "There are a lot more people getting out and doing things, so I think there's a huge market for this."
If you didn't notice, all of the features are attractive to many campers who like that kind of space, headroom, and easy access. It will be new on the market next spring for about $400 -- accessible has to be affordable too.
×