Estimated read time: 2-3 minutes
This archived news story is available only for your personal, non-commercial use. Information in the story may be outdated or superseded by additional information. Reading or replaying the story in its archived form does not constitute a republication of the story.
Jed Boal ReportingIt was a bad Monday for about a half dozen businesses that discovered burglaries this morning when employees came to work. Right now police in South Salt Lake think three of them are related.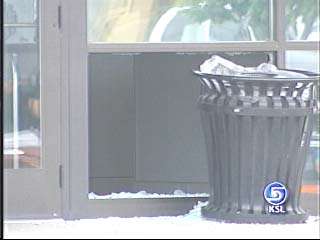 A DMV office was closed today. Sometime last night police think a burglar cut the phone lines to disable the alarm, broke the window and went in. When workers arrived this morning, they discovered the results of the burglary.
Jodi Monaco, Department of Motor Vehicles: "One of our employees came in and saw a window broken and immediately called police."
Same story around the corner at McRae Sales, a flooring distributor. Kip McRae knew something was wrong when he walked in and the alarm was disarmed.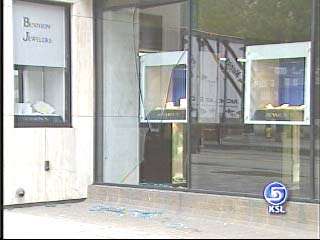 Kip McRae, McRae Sales: "Start looking through the office, there's stuff scattered everywhere, just ransacked the place, and immediately you know what's going on there."
In all, South Salt Lake police scrambled to four break-ins this morning. The break-in at Bonwood Bowl fits the same pattern. The burglars did not get away with much.
Sgt. Steve Daniels, South Salt Lake P.D.: "There was some change taken out of machines, but more damage to the buildings, more than what was taken."
More than two dozen blocks to the north in Salt Lake City someone slammed their way into Bennion Jewelers and apparently tried to break in to Nordstrom too. No word from police whether those could be related.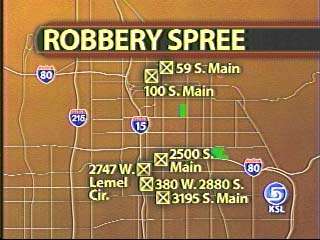 The owner of McRae Sales feels vulnerable. He tells us police patrols have been cut; police insist cuts have not affected their numbers on the street. McRae will push the issue at City Council, but he's glad the burglars went away empty handed this time.
Kip McRae: "It appears to me by the way they pried some desk drawers open just looking for cash."
Last year the DMV lost the safe. This year it was tampered with, but not entered.
×