Estimated read time: 2-3 minutes
This archived news story is available only for your personal, non-commercial use. Information in the story may be outdated or superseded by additional information. Reading or replaying the story in its archived form does not constitute a republication of the story.
Shelley Osterloh reporting South Korean women have won individual gold in Archery at every Olympics since 1984.
A woman from Wyoming hopes to change that.
Only two Americans managed to survive the first round of archery competitions. One of them is Jennifer Nichols.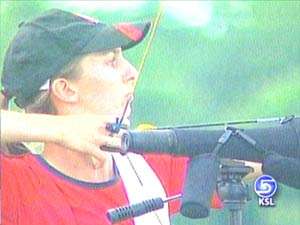 She believes her keen eyesight and talent are purely God given.
Jennifer Nichols was born in Cheyenne, Wyoming where she grew up in a very close knit Christian family. She says religion has always been an important part of her life, and attributes much of her athletic success to her faith.
Jennifer Nichols/Olympian: "It is so comforting to know that there is a God who is in control and who has a good plan for my life."
Apparently, part of that plan was to be an Olympic athlete.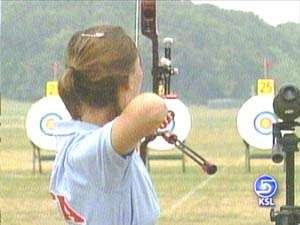 When she was 11-years-old, her father bought the whole family compound bows for Christmas, and Jennifer showed her archery skills right away. When she was 15, a coach suggested she could be a future Olympian. Jennifer says she took it as a compliment but deep down the idea stuck. Soon, that idea turned into a dream she would spend the next five years pursuing.
But Jennifer says a higher power helped her every step of the way.
Jennifer Nichols/Olympian: "The future is in His hands and ultimately, the end result is up to Him."
Jennifer's parents and her four siblings were also there for the journey. In fact, Jennifer has fond memories of the whole family packing into a four door pickup to drive across the country to various archery competitions. Plus, her mother home-schooled all of the children, so they've never had to worry about missing class to travel.
Jennifer Nichols/Olympian: "It gives us the ability to pursue things like archery. We can get it done in the amount that it takes to get it done, and then spend the rest of our time pursuing a sport that we want."
Although Jennifer is shooting for a gold medal in Athens, this straight arrow says it's not the only thing that drives her.
Jennifer Nichols/Olympian: "I don't usually think about the gold medal, or being presented with an award. Because that is the result and as long as I am doing my job the end result is going to happen and that's kind of like the icing on the top of the cake."
The Deeply spiritual Nichols carries Bible verses in her quiver and recites them during practice.
She told me one of the people she most admires, is Utah's Denise Parker-another Olympic Archer.
×