Estimated read time: 2-3 minutes
This archived news story is available only for your personal, non-commercial use. Information in the story may be outdated or superseded by additional information. Reading or replaying the story in its archived form does not constitute a republication of the story.
Kimberly Houk ReportingChildren expected to walk an unsafe path for more than a mile to get to elementary school, it doesn't seem right. But what can a school district do if there isn't enough money to add more bus routes?
This is the story of one father's personal struggle to make walking to school safer for his sons.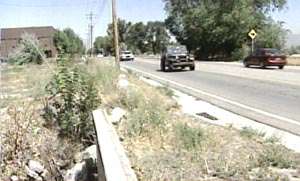 Joel Cobia: "I looked at that and said, 'my kids can't walk to school."
Joel Cobia says he was upset when the Jordan School District told him his five and eight-year old would have to walk more than a mile to elementary school. But he got angry when he walked the path himself to see what it was like.
Joel Cobia: "This is just not right, even having a kid walk a route where they can get hurt, hit by a car, fall in a canal. It's not right."
To find out how dangerous the route is, we walked it. It doesn't take long before the sidewalk ends on one side of the road and the kids are expected to cross in heavy traffic at 1300 West to get across the road, where the side walk picks up on the other side. This happens several times, the sidewalk disappears on one side then reappears on the other side.
Joel Cobia: "They need to walk on the road part of the way. It's just dangerous."
And what becomes most dangerous is when the path leads right to a deep canal that's concealed with heavy weeds. You can hear the rushing water.
The Jordan School District says the kids will have to walk it because it can't afford to spend the extra $2,000 they say it would take to add the Cobia kids on one of their bus routes.
Out of the 236 routes identified as hazardous this year, the school district came up with a million dollars out of their budget to finance 167 of those routes. The route the Cobia kids live on was ranked number 179. They literally missed the bus by a mere 12 slots.
Independent consultants are responsible for the ranking and even the mayor of West Jordan can't get the district to budge.
Mayor Holladay: "We try to get them to consider this an exception to their rule."
And the most frustrating part is the Cobia children are just one-tenth of a mile too close to school to qualify for the bus ride. This is particularly troubling for the Cobia family because both parents have to be to work long before the kids are expected at school.
Jordan School District says they spend more money from their budget financing bus routes than any other district in Utah.
×
Most recent Utah stories