Estimated read time: 2-3 minutes
This archived news story is available only for your personal, non-commercial use. Information in the story may be outdated or superseded by additional information. Reading or replaying the story in its archived form does not constitute a republication of the story.
Sam Penrod ReportingA huge name in outdoor retail is coming to Utah and Cabela's promises to attract people from all over the west. Eyewitness News first reported last week that Cabela's is coming. Today it was made official -- a store will be built in Lehi, right along I-15.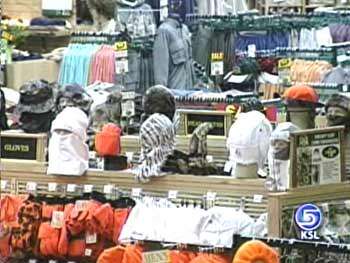 There's no question that sportsmen and outdoor enthusiasts are thrilled with this news, especially that the store is scheduled to open before the big hunts next year. But so are local and state leaders who know that with Cabela's, they've bagged the big one.
In the world of the outdoors, Cabela's is the Disneyland of Sporting goods stores and beginning next fall, an estimated four million people a year are expected to visit the Utah Cabela's.
Governor Olene Walker: "We go to Evanston for the lottery, we go to Wendover for gambling, but now they're coming back to Cabela's."
In other states Cabela's has become a top tourist attraction in and of itself. In Utah, Cabela's plans a 170,000 square foot store with a museum, gun library, large fish aquarium and restaurant, along with a trout stream running through the store.
Cabela's will sell 235,000 different products. But it's the economic impact that has government leaders very excited. 400 new jobs, along with numerous other businesses that Cabela's is expected to attract.
Mayor Ken Greenwood, Mayor of Lehi: "The economic impact I think is going to be huge on the whole area."
The Utah store will become Cabela's 13th in the nation and the store's first western location.
Mike Callahan, Vice Pres. Cabela's: "As a mail order company we have a huge database and that's how we determine where we site stores, we look at concentrations of customers. And so Salt Lake obviously as you look across the west, there's a huge concentration of customers here."
Cabela's just went public last month and with that capital from investors, Cabela's plans to bring more stores to its customers.
Mike Callahan: "Retail will be the primary growth vehicle for the company. We have lots of pins in the map."
Lehi City is bonding to help pay for the infrastructure for the store at Traverse Mountain. Construction will start right away and the new store is expected to open in a little more than a year from now.
×
Most recent Utah stories