Estimated read time: 2-3 minutes
This archived news story is available only for your personal, non-commercial use. Information in the story may be outdated or superseded by additional information. Reading or replaying the story in its archived form does not constitute a republication of the story.
Shelley Osterloh ReportingThe Olympic Athletes Village in Athens is reportedly the most heavily guarded venue personnel of the Games--- with police officers, snipers and secret service surrounding the complex. Only those with proper credentials are allowed in.
It houses more 17,000 athletes and coaches and requires about 10,000 service people to keep it all going. We met Cache County Diver Justin Wilcock there and met another Utah man who serves up Western hospitality.
The 400 acre Olympic village is designed to have everything an athlete could want, from entertainment to facilities for working out.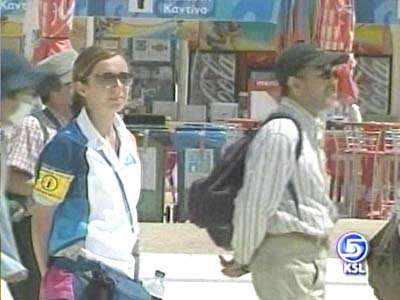 Justin Wilcock: "The US delegation has our medical service right in the village. The athletes have a lounge with live feeds from all the events, popcorn, internet services Olympic store; so they've got it all here. And then the cafeteria, which is amazing; it's huge, all you can eat 24 hours a day, it's great."
And part of that food service is from McDonalds, an international sponsor of the Olympics. 300 employees from the company's restaurants in more than 30 countries were selected for the McDonald's Olympic Champion Crew. Among them is 18-year old Adam Montero who just graduated from Murray High.
Adam Montero: "So ya got people from all over the world, and you're sitting in one room with all of them at once."
Montero admits he's been star struck a few times by serving famous athletes. He is amazed his job at the West Jordan Golden Arches has led to a gold medal dream come true, even though he never imagined it.
Adam Montero: "Well lets just say anything to do with the Olympics is a dream come true because how many people do you know that get to actually go hang out with the athletes?"
Adam is even wearing a special Olympic Uniform with a hat designed by tennis star and Olympic athlete Venus Williams.
×