Estimated read time: 2-3 minutes
This archived news story is available only for your personal, non-commercial use. Information in the story may be outdated or superseded by additional information. Reading or replaying the story in its archived form does not constitute a republication of the story.
Samantha Hayes ReportingBoisterous, cheering crowds are as much an Olympic tradition as the athletics. But television cameras are showing a less than sold out crowd in Greece. Could empty seats become the defining image of the Athens Games?
The Greek Olympic Committee seems confident the situation will improve by the end of the week. But as Salt Lake Organizers know, budget success depends on how many people come.
Many people drive by Utah's former Olympic stadium and the Hoberman Arch with wonderful memories of the Games here in 2002. A big part of it was the excitement as crowds filled our city. Athens organizers are hoping that happens for them soon.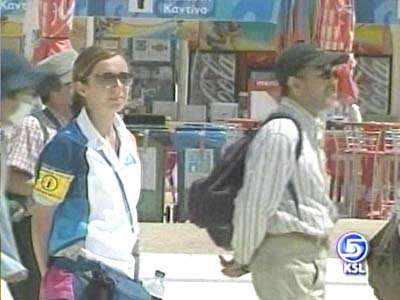 When the US Men's Gymnastics Team won the silver Monday night, Utahn Guard Young's family was there, but almost as notable as the team victory was the vast number of empty seats.
John Bennion: "I'm sure the ticketing folks are squirming a bit in Athens."
John Bennion was in charge of ticket sales for the Winter Games in Salt Lake City.
John Bennion: "I would think most Olympic committees would expect to sell 80 percent of their tickets, so I would think being at 60 percent would have to be a disappointment for them."
In Salt Lake City 88 percent of tickets available were sold a month before the games started, and locals bought half of them.
Frasier Bullock, Former SLOC President: "Fortunately we sold 207 million dollars worth of tickets, an Olympic record, 96 percent. Nobody was ever close to that."
Athens Olympic organizers report 57% of the total 5.3 million tickets have been sold. Final figures for the Sydney Olympics were 92% and Atlanta 82%.
Frasier Bullock: "There is something about the Olympic spirit that is in a stadium packed with fans cheering for them, and that's one of the elements that is missing."
Some say the Olympic Spirit was dashed over fears of terrorism and concern over whether Athens would be ready to host the world. But in these Games where the theme is "Welcome Home," hopefully the crowds won't stay away.
Salt Lake organizers believe the Greeks may have expected locals to absorb tickets not purchased by foreigners. But, as many of us know after attending Olympic events, the tickets are expensive! Consider this: the per capita income in Greece is $11,000. Compared to Utah at $24,000.
×