Estimated read time: 2-3 minutes
This archived news story is available only for your personal, non-commercial use. Information in the story may be outdated or superseded by additional information. Reading or replaying the story in its archived form does not constitute a republication of the story.
Richard Piatt ReportingThe battle is on for those who believe a man-woman 'marriage' is under attack. Standing up for marriage means a Constitutional Amendment to the two lawmakers responsible for Utah's marriage Amendment. That amendment is on the ballot this fall.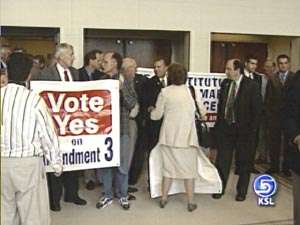 Today at the Capitol "The Constitutional Defense of Marriage Alliance" unveiled its war plan. The battle is on, but that fight is already going beyond defending marriage. It's about amending the Constitution as well, and that makes it a bit more complicated.
The new, temporary home to the Utah Legislature is already a battleground. The first major news conference here announces the 'Constitutional Defense of Marriage Alliance'.
The Amendment legally reads in two parts: One, to define marriage as between a man and a woman. Two, it states 'no other domestic union, may be given equivalent legal effect.' It is this part that is, and will be, hotly debated over whether it is constitutional.
Supporters include conservative lawmakers and Utah's Eagle Forum who say the second part is legal and necessary to keep the first part from being compromised.
Sen. Chris Buttars, (R) West Jordan: "The reason they're so fearful about this passing is this language will stop that. And will clarify and will hold the legal definition as between a man and a woman."
But legal opinions differ, including that of Utah's Attorney General, who says he agrees with part one, but not part two. His constitutional questions are already being interpreted by both sides.
LeVar Christensen, (R) Draper: "No, I think it's just his personal opinion. That's all it is. It's just his opinion in the context of a race for re-election."
But the "don't amend" alliance thinks legal flaws in the amendment could strip rights from existing same-sex and heterosexual couples.
Scott McCoy, Don't Amend Alliance: "This isn't just one person out there making a personal statement. It's the attorney general for the state of Utah whose conservative credentials cannot be doubted, saying legally this is suspect and we have a problem."
That second part is where the battleground will be right up until Election Day and beyond if there is a legal challenge.
×
Most recent Utah stories