Estimated read time: 2-3 minutes
This archived news story is available only for your personal, non-commercial use. Information in the story may be outdated or superseded by additional information. Reading or replaying the story in its archived form does not constitute a republication of the story.
Sandra Yi ReportingWhat may have been a prank left a West Jordan teen blind in her right eye. The girl was hit in the face, possibly by a bottle. It happened late Friday night as she was on her way to her friend's house.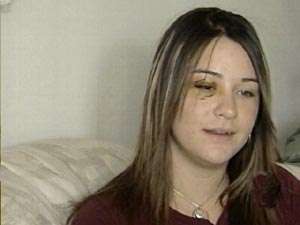 Police are searching for whoever may have thrown the bottle, but it may be tough because no one saw or heard anything. Police didn't even find the bottle or any broken glass at the scene. But the victim suffered pretty severe eye injuries.
Whitney Santistevan: "It just surprised me. I was in shock."
Her life changed in a split second.
Whitney Santistevan: "Right as we turned to the right to see what was going on, a bottle came and hit my eye."
It was a severe blow. She's now blind in her right eye and doctors aren't sure her vision will ever return.
Whitney Santistevan: "It felt like it hit pretty hard. My head bounced and everything just went blank, and I heard ringing for a minute."
The bottle seemed to come out of nowhere. Whitney and her friend were driving in a West Valley City neighborhood Friday night when they heard something hit their car. As Whitney turned her head to look, she felt a bottle hit her in the eye. She was in the passenger seat with her window rolled down.
Whitney Santistevan: "What made me scream is when I saw it. I don't think I felt it right then, but as we got closer to the hospital, it just started feeling like my whole face was really big and felt like I had gotten hit in the face, punched."
Whitney is still recovering and the damage is worse than it looks. Her retina is torn and there's bleeding behind her eye. She'll need plastic surgery to fix a bone fracture.
Whitney's grandfather is offering a five hundred dollar cash reward -- a small price to pay, he says, for justice.
Edward Dubois, Whitney's Grandfather: "I want to get hold of the person who's liable. You cannot just get away with that."
Whitney Santistevan: "Whoever it was, if they saw what they did to me, hopefully it would make them think twice and how bad they really hurt somebody."
West Valley City police are investigating. They say they're following some tips. And again, Whitney's grandfather is offering a $500 cash reward. Anyone will information on the case should call West Valley City Police.
Because of the victim's injuries, the person responsible could face felony charges.
×