Estimated read time: 2-3 minutes
This archived news story is available only for your personal, non-commercial use. Information in the story may be outdated or superseded by additional information. Reading or replaying the story in its archived form does not constitute a republication of the story.
Sammy Linebaugh ReportingOn August 1st a new president took charge of Utah's largest public university. Sammy Linebaugh sat down with Michael Young and his wife Suzan to talk about the challenges and opportunities ahead of them at the U.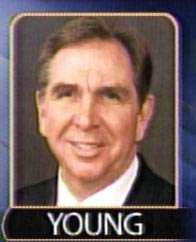 Michael Young, President, University of Utah: "Everything I learn, I learn how much more complex this was than even I imagined. And I imagined it was very complex."
Michael Young is a problem-solver. He's built a career bridging understanding as a teacher, ambassador, author and communicator.
Suzan Young, Wife: "He's very nice too. He's a lot of fun, pretty sarcastic at times."
All gifts, says wife Suzan, when it comes to running a University and uniting groups with sometimes competing interests. Young says he expects battles in his new job, but not the sort that have plagued the University in the past.
On religious division…
Michael Young: "There will be neither discrimination for nor against any religious group on my watch. I just feel very strongly about that."
On the issue of guns on campus..
Michael Young: "Kids at 18, 19 and 20 are emotionally charged in a way that encouraging them to pack pistols is really not a great idea. I've been in academics a long time, and have enough personal experience to recite on that score just to suggest this isn't the world's best idea."
That stance will likely take him to a showdown with the Legislature, which has long championed a law allowing people with permits to carry guns on the state-funded campus. The case is now in the courts.
Young says he won't allow issues like that to distract him from a broader mission -- looking for ways the state and its flagship university can collaborate, particularly in the fields of medical science, genetics and cancer research.
Michael Young: "The things the University of Utah is really strong in, sweep up lots of other disciplines as we are trying to think through the policy implications and the societal implications of those things."
At heart, young says he is a teacher, passionate about protecting the integrity of the academic environment. His leadership philosophy -- students come first.
Michael Young: "The image I gave everybody, I said look, I want you to sit back and think of me sitting across the table 15 years from now and asking them for 100-thousand dollars. The last thing you want them to tell me is a nasty story about how they were treated by some administrator."
The Youngs have lived in half a dozen cities, including Tokyo, and say Salt Lake already is starting to feel like home.
Michael Young: "The welcome has just been warm beyond anything we would have anticipated."
And this president appears ready to work. Michael Young comes to Utah from George Washington University, where he was Dean of the Law School.
×