Estimated read time: 2-3 minutes
This archived news story is available only for your personal, non-commercial use. Information in the story may be outdated or superseded by additional information. Reading or replaying the story in its archived form does not constitute a republication of the story.
Sandra Yi ReportingSue Ludwig: "I knew it was gunshots, but I didn't think it was my neighbor."
A domestic dispute turns deadly when a man shoots his estranged wife, then turns the gun on himself. It happened just after 7:00 this morning at an apartment complex in Sandy.
The woman moved there only a couple of months ago. Her estranged husband showed up this morning. Police say he shot her, then shot himself.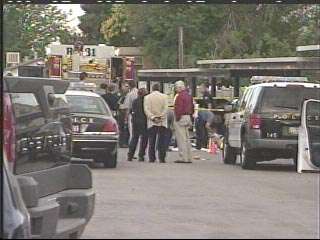 Sue Ludwig: "I was upstairs, getting ready for work. I was in my bathroom. I heard a shot. Maybe about 10 seconds later, I heard another shot."
Sue Ludwig says what she found outside was devastating. She saw her downstairs neighbor shot to death and her estranged husband next to her.
Sue Ludwig: "She was laying there in a puddle of blood, in fetal position, and he was laying on his back."
The sound of gunshots drew people outside. Many were still at home, getting ready for work. Teresa Cohoon was around the corner.
Teresa Cohoon: "The lady was laying next to her car, curled up, and the guy was laying on the ground shaking."
Investigators say the man confronted the victim in the parking lot, shot her, then turned the gun on himself. An officer, who happened to be at the complex on an unrelated call was at the scene seconds after the shooting.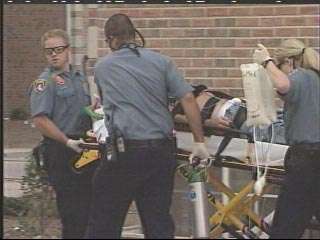 Sgt. Bill O'Neal: "When he arrived on scene, the female was dead. The male was still breathing."
The man was airlifted to the hospital in serious condition.
Neighbors believe the woman was on her way to work when her husband approached her. The couple, they say, was separated. The victim had talked to Sue Ludwig about marital troubles.
Sue Ludwig: "It's terrible. I was sick to my stomach. I never should have went over there and looked."
The shooting has some people here on edge. This is a brand new apartment community.
Teresa Cohoon: "I moved here because I thought new apartments would be a little safer, so it's scary."
Neighbors say the victim lived there with her grown daughter, but we don't know if she saw or heard anything. The victim worked at a dental office. Several of her co-workers stopped by and were visibly distraught.
×
Most recent Utah stories