Estimated read time: 2-3 minutes
This archived news story is available only for your personal, non-commercial use. Information in the story may be outdated or superseded by additional information. Reading or replaying the story in its archived form does not constitute a republication of the story.
Shelley Osterloh ReportingThe winner of the Olympic heptathlon is generally considered to be the greatest female athlete in the world. One of the women vying for that title lives in Utah, but she competes for her native country of Trinidad and Tobago.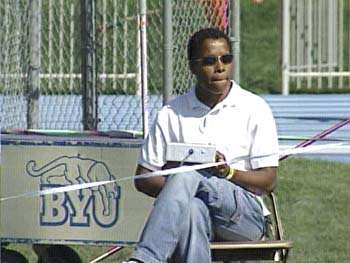 The Heptathlon is one of the toughest Track and Field events because athletes compete in seven events. It's that challenge that appeals to Marsha Mark Baird.
Marsha Mark Baird: "And you just gotta work hard every day and just put into it what you expect to get out of it."
And work hard she has, but it is her attitude that coaches say makes her a strong competitor.
Coach Craig Poole, BYU and USA Olympic Track Coach: "Oh Marsha, she is a fireball. I'll tell you that lady has more spirit and more spunk than anybody you can imagine. And she can be the most enthusiastic person. When she should be down and out, she is up and ready."
As a child growing up in Trinidad, Marsha says she didn't know anything about Track and had never heard of the heptathlon. But she liked sports.
Marsha Mark Baird: "Was a little tom boy. My mom used to call me 'Hot Foot' because I couldn't stay put in one place at a time."
She funneled that energy into running and was recruited by BYU for the track team. It was there that she became friends with Tiffany Lott-Hogan, and the two have trained together for eight years.
Marsha Mark Baird: "When we practice together we have so much fun, and we pull each other along."
Four years ago Baird became the first woman from Trinidad to compete in the Olympics in the Heptathlon. But Hogan did not qualify. This time around they are both going to the Olympics. Since the last games Marsha has married Greg Baird, her biggest supporter.
Greg Baird: "In everything she does she is really positive and she works very hard."
It's an attitude she carries to work as well as workouts. Baird is a social worker in the Provo School district where she specializes in gang prevention and works with kids who have behavior problems.
Marsha Mark Baird: "My philosophy for working with these kids is to make good choices and teach them how their choices now will effect their future."
Baird is thrilled to compete in another Olympics and hopes it will inspire kids in Utah and in Trinidad to believe in the themselves and reach for their dreams.
"I did have some doubts. I did have some fear, but at the same time, my faith was still there and so I wasn't going to give up and so I think the lesson I learned was never give up."
×