Estimated read time: 2-3 minutes
This archived news story is available only for your personal, non-commercial use. Information in the story may be outdated or superseded by additional information. Reading or replaying the story in its archived form does not constitute a republication of the story.
Richard Piatt ReportingThis month marks a milestone for a landmark business in Salt Lake City. Sam Weller's Zion Bookstore is 75-years old, it's family-owned, and determined to stay that way at its Main Street location in Salt Lake City.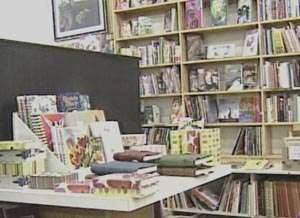 Here you can find a Spiderman comic, a French Newspaper, and of course, books -- packed into miles of full shelves. But there's more, a 75-year heritage of dedication to books and the people who read them.
Tony Weller, Bookstore Owner: "The fact that the store was opened by my grandfather and run by my parents for many years before I got in makes the stake in the success in the business feel much greater."
Tony Weller runs the business now, building on a reputation crafted by his father Sam and grandfather Gus. Depression, war, a four-alarm fire in 1972, and recently tough times on Main Street are some of the different challenges that hit each generation, and there are more books than ever.
Parker Robison, Customer: "It's very unique. It's very unique. I don't know if you've been downstairs, but it's endless, the number of books that have been collected."
Mark Arnold, Customer: "They're on top of it. They know what to purchase and pass on."
If you were to walk into Sam Weller's right now, you'd have access to at least a million titles on topics from Oragami to World History. And some of the titles aren't easy to find either. How about 'Social France at the Time of Phillip Augustus' ? Chances are you won't find this at just any bookstore.
Tony Weller: "We've always had an ethic that is geared toward the book and the customer. Not the bottom line as an accountant might measure it."
To the staff that means beating corporate competitors by loving books more.
Rare books that can be found there include: A Book of Mormon from 1830; a hand-painted illustrated 1800's book on Ornothology, and Volume of Living philosophy autographed by Albert Einstein.
Victoria Johnson, Sam Weller Employee: "I think that's why people enjoy this bookstore, because we're all readers and people know they can discuss books here, and we're not just robots."
Updates to the store include a coffee shop coming soon, a Spanish-language only section, and integrating new and used titles store wide. All are things meant to build on a foundation that's held up for a long time, and that's stronger than ever.
×
Most recent Utah stories