Estimated read time: 2-3 minutes
This archived news story is available only for your personal, non-commercial use. Information in the story may be outdated or superseded by additional information. Reading or replaying the story in its archived form does not constitute a republication of the story.
Sandra Yi ReportingHigh school football is kicking off across the state. For players at Bountiful High School the first game of the year was bittersweet. The team paid tribute to a teammate who was struck and killed by lightning last month.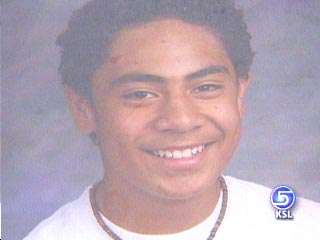 State champions, Bountiful High, played rival Lone Peak High School tonight. And as they kicked off the season, on their minds was a former teammate and friend, Marion Toko.
Before tonight's big game, the Bountiful High School football team shared a moment of silence. It was a small, but meaningful gesture for a budding football star whose life was cut short at 16.
Jace Wood, Senior, Bountiful High School: "You know there's someone not here, although we know we have a job to do, but we know that he's not here, able to help us out."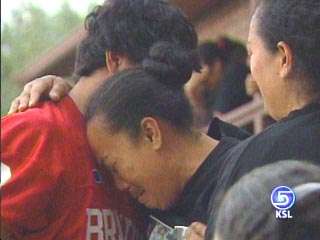 Marion Toko was killed by lightning last month. At his funeral his teammates retired his jersey. Today his mother wears it with pride.
Vasimata Toko: "I miss him so much, and I can feel close to him wearing his jersey."
Vasimata Toko plans to attend every game this season. Football was her son's passion.
Vasimata Toko: "He loves to play football and I love to watch him play."
Friends say on the field Marion was a hard-hitter. They say his love for the game still inspires them.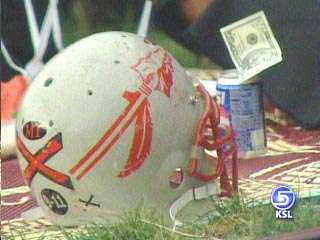 Lavell Ika, Junior, Bountiful High School: "He was a good friend and even better football player."
Jake Magalei, Junior, Bountiful High School: "He was 100 percent every single play. He never really let his emotions get in the way of things. He just got it done."
Every player now wears decals with Marion's number. His initials, M K, are also embroidered on their wristbands. This team was his second family. They want him to know he isn't forgotten. Marion's mother takes comfort in that.
Vasimata Toko: "Be winning, for the team to win, to remember him, because he had the heart of champions."
Two weeks ago Marion's mother received a letter saying her son's biography is going to be published in the 'Who's Who Among American High School Students - Sports Edition'. Marion was nominated for that honor and he would have been eligible to compete for scholarship money.
×