Estimated read time: 1-2 minutes
This archived news story is available only for your personal, non-commercial use. Information in the story may be outdated or superseded by additional information. Reading or replaying the story in its archived form does not constitute a republication of the story.
Samantha Hayes reportingThis past June a head-on crash on I-15 dramatically changed the lives of a newlywed couple from Colorado.
They both survived, but Tara Berendes spent several months in a coma.
Samantha Hayes has wonderful news about her remarkable recovery.
For the last two months Josh Baerendes never left her side, and today they get back to starting their life together again.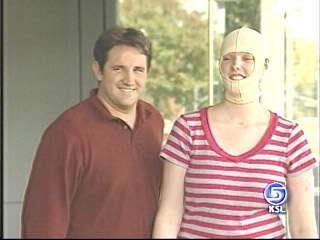 Tara was released from Santa Clara Valley Medical Center this afternoon.
Josh and Tara were only married a week when they set out for Colorado to start their life together.
On their way through Utah the unthinkable happened.
Witnesses say a white car heading northbound on I-15 lost control, rolled through the median, and hit the Berendes's head-on in their SUV.
Josh was released from the hospital the next day, but Tara was in critical condition in a coma. "For worse" came sooner than expected.
Josh Berendes: "I made a promise to her that I'd take care of her and that's where my focus is now. Nothing else."
Tara was in a coma for six weeks. She was able to speak July 9th and walked again in August.
She suffers from short term memory loss. She doesn't remember her wedding, college graduation, and other events that preceded the accident, but she knows the people around her.
Tara has many scars from the cuts, bruises and burns she suffered. She will be wearing a special pressure mask for the next nine months for the burns on her forehead
×