Estimated read time: 2-3 minutes
This archived news story is available only for your personal, non-commercial use. Information in the story may be outdated or superseded by additional information. Reading or replaying the story in its archived form does not constitute a republication of the story.
John Daley Reporting One of the big stories from the Olympics in Athens is the Iraqi men's soccer team that played today for a shot at the gold medal game. The team is captivating fans around the world, including here in Utah.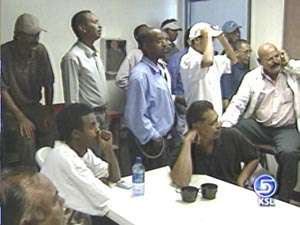 We found an enthusiastic soccer crowd where the cabs drivers wait at the airport. They were watching Olympic soccer, hoping the team from Iraq could continue its remarkable run.
At Salt Lake International Airport today things are pretty uneventful, except on Taxi Cab row, in the break room where drivers originally from places like Iraq, Iran, Somalia, India, Pakistan and Nigeria gather to watch Olympic soccer.
In many parts of the world this is no mere game, it's a way of life, where a nation's pride is pinned to the performance of its national team and where fans argue passionately about players and referees.
But for those living in Utah and born in Iraq, this team represents something new--a fresh chance.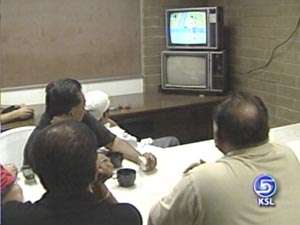 Ahmed Al Maliky, Iraqi Soccer Fan: "Oh man, we really feel very proud, very happy, very good. Ya know what I mean. We see the Iraqi team is coming again after the Saddam regime, you know. That means the Iraqi people is a very great nation."
Just qualifying was a feat for the Iraqis who have been unable to play home games since war began last March. Under Saddam Hussein a poor performance could lead to torture or worse for players and their families.
Abdul Al Jereh, Iraqi Soccer Fan: "So when you play, you are under pressure to lose. Now they are free."
The team is winning fans in Iraq and worldwide.
Khidair Alshimary, Iraqi Soccer Fan: "All over they watching the game. Right no in Iraq, everybody is watching, even in the street. Somebody got power, somebody got a TV. They coming together to watch the new team."
Today, with a loss, the Iraqi team's luck ran out. But for a nation on the rebound what they did was plenty.
Abdul Al Jereh, Iraqi Soccer Fan: "They did good. Even if they lose or win, we're proud of them."
The Iraqis still have a chance for a bronze, which would be their nation's first medal of any kind in 44 years--since a weightlifter won bronze in 1960. Iraq takes on soccer power Italy for the bronze Friday night.
×