Estimated read time: 2-3 minutes
This archived news story is available only for your personal, non-commercial use. Information in the story may be outdated or superseded by additional information. Reading or replaying the story in its archived form does not constitute a republication of the story.
Tonya Papanikolas ReportingAbout 300 men and women from Hill Air Force base are on their way to Iraq. The group is part of the 388th Fighter Wing.
Pat VanVranken, Deployed to Iraq: "It's tough. It's never too much fun to be separated from your loved ones."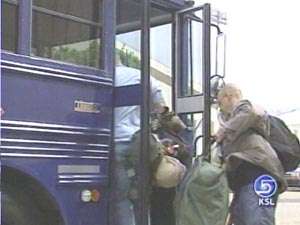 Separations are hard enough on a family for short periods of time, but these air men and women will be in Iraq four months.
Tech. Sgt. Catherine Marum, Deployed to Iraq: "It could be worse. It could be the army. And they're gone for a lot longer than four months. So I just try to think about the positive aspects."
Catherine Marum is leaving behind her husband and two young daughters.
David Marum, Wife Deployed to Iraq: "She'll be missing the kids' birthdays and Christmas and Halloween, all those great holidays. But I've tried to explain to the kids how important it is and how much the Iraqi people need us."
"Catherine Marum: "I'll do whatever they need me to do is basically it. I mean, I'd rather be over there now than while they're fighting, actively fighting."
Some of the airmen are F-16 pilots, some work in intelligence and others are maintenance experts. Dale Ludwig will be helping to inspect parachutes and other survival gear.
Master Sgt. Dale Ludwig: "Hopefully I don't need to accomplish anything. If I accomplish something, that means a pilot punched out and he's using a parachute."
Whether behind the scenes or in the air, it's clear these crews believe in their mission.
Major Dean Judge: "There's quite a few that are really excited. I had more volunteers than I can send."
Pat VanVranken: "The troops on the ground need us, so it's critical that we do our job and do it right."
And while spouses and parents will be greatly missed, their families are proud of what they do.
David Marum: I'm very proud. I'm extremely proud. This is a once-in-a-lifetime type of experience to really help another nation."
Four months from now the families hope each and every one of these airmen will be safely back in their arms
The family support center at Hill Air Force Base tries to help the loved ones left behind. They offer child care, referrals for financial assistance, and planned activities for the families.
×
Most recent Utah stories