Estimated read time: 2-3 minutes
This archived news story is available only for your personal, non-commercial use. Information in the story may be outdated or superseded by additional information. Reading or replaying the story in its archived form does not constitute a republication of the story.
Kimberly Houk ReportingWe've all heard of the tooth fairy, but a mother in Orem is taking the idea a little further to help kids in need of new shoes. She's now known as the "shoe fairy".
Wendy Olsen was helping out with her daughter's first grade class when she noticed a little boy who desperately needed a new pair of shoes. Knowing that his parents couldn't afford them, Wendy decided to buy the shoes. But it was how she delivered them that now has many calling her the "shoe fairy".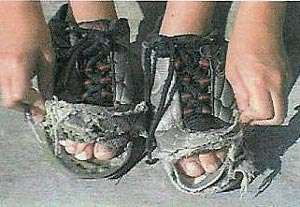 Wendy Olsen: "He wore these shoes to school, and when I saw them, I just thought, 'Oh my goodness look at these, I mean the tops and the bottoms.'"
Olsen says her heart went out to the boy who had walked to school in bad weather wearing the shoes.
Wendy Olsen: "There was a foot of snow out front, and he had said that he had walked to school that day, and his feet were soaking wet, and he didn't want to go out to recess. And I could tell why he didn't want to go out to recess."
She spent the next couple of days trying to figure out how to help him, and do it anonymously.
Wendy Olsen: "It was my daughter Kylie's idea to say let's just tell him that they're from the Shoe Fairy."
Kylie had recently been visited by the tooth fairy, after having lost a tooth. So together they brought the little boy his new pair of shoes.
Wendy Olsen: "I cried. It was so emotional that he was so happy to get a pair of shoes."
It's been two years since Olsen delivered her first pair of shoes. And a dozen pairs of shoes later, she now takes referrals from teachers who keep on the lookout for kids who need better shoes.
Deanne Williams, Teacher: "As a teacher, of course, you look at it and you think, 'Oh I wish that I could go buy those kids news shoes to wear so that they would be warm and dry.' And when she brought this up in the faculty meeting, I thought, 'Well here's a source that's going to help us."
Olsen gives teachers giftcards to Payless Shoe Source. And this is how the shoe fairy makes her visits, teachers pass on 15-dollar gift cards to the students.
Deanne Williams: "The next day he came back and brought those new shoes on his feet, walked in my class, and he was grinning from ear to ear."
Olsen pays for the shoes using her own money and some donations. She'd like to take this program to every elementary school in the state. So far it's only being used in the Alpine School District.
×
Most recent Utah stories