Estimated read time: 2-3 minutes
This archived news story is available only for your personal, non-commercial use. Information in the story may be outdated or superseded by additional information. Reading or replaying the story in its archived form does not constitute a republication of the story.
John Hollenhorst ReportingMost of us think of Utah as a pretty great place to live. But according to Forbes Magazine, it's also a great place to die.
That's not meant to be funny. Forbes says Utah is the best place in the country to die, primarily because so many people die right in their own homes.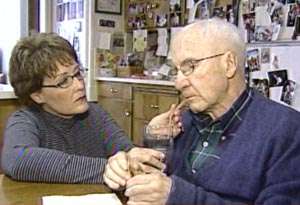 Dick Wetzel is in the late stages of congestive heart failure. He's getting medical care in his own dining room. He's surrounded by family memories, and he sees his loved ones every day, sometimes sharing a home-baked cookie. It's an alternative to a hospital or nursing home, surrounded by strangers and strange equipment.
Betty Wetzel, Wife: "He would be heartbroken and depressed."
His family was forced to make big decisions a few months ago. His wife could no longer care for his needs.
Betty Wetzel: "And I just felt like I was crying inside. I wanted to help so badly. And I just wasn't strong enough."
Instead of institutionalizing him, they kept him home. He sees a hospice nurse three times a week; a health aide twice a day.
Kristen Wheelwright, R.N., Harmony Home Health & Hospice: "He's comfortable, and that's what we're always concerned about, that they're pain free and that they're comfortable, and that they're enjoying their time that they have as best they can."
Betty Wetzel: "He's much happier and I'm much happier."
It's largely because of arrangements like this that Forbes magazine ranked Utah the Best Place to Die in America. Utah tops the list partly because of high quality health care, but mainly because Utahns lead the nation in being at home when their time comes to die.
Forbes magazine found that cancer patients in Utah are way above the national average. 63 percent of them die at home, presumably in a loving environment instead of a cold and sterile atmosphere in an institution.
Kristen Wheelwright, R.N.: "They're just more comfortable. They know their surroundings. They know their schedule. It's a lot better."
It's not for everybody. Some need or want specialized care available only in a hospital. Some don't have the family resources for what is not an easy assignment.
Betty Wetzel: "Difficult time. But I wouldn't want it any other way. It's just been a blessing for us to have him here."
Some patients decline rapidly when they're institutionalized. So a decision to die at home can sometimes prolong a life.
Forbes says Utah's health care in general ranks fifth in the nation. But our state gets only a B minus when it comes to laws that protect the rights of people at the end of their lives.
×