Estimated read time: 2-3 minutes
This archived news story is available only for your personal, non-commercial use. Information in the story may be outdated or superseded by additional information. Reading or replaying the story in its archived form does not constitute a republication of the story.
Tom Kirkland reporting The entire town of Heber, Utah is rooting for Olympian Cael Sanderson. Signs like these are all over town!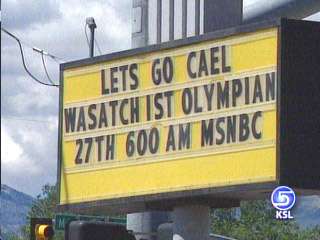 Cael made his Freestyle wrestling Olympic debut, today in Athens.
In Cael Sanderson's Olympic debut, he won three matches, and wore his family out. Also, he couldn't have gotten a bigger scare on his first day as an Olympic wrestler.
Sanderson, the most successful college wrestler ever while going 159-0 at Iowa State, won three times at 185 pounds (84kg) and will meet Cuba's Yoel Romero in the semifinals Saturday. Sanderson rallied from two points down in the final minute to beat Iran's Majid Khodaei 6-5 in overtime in his final match of the day.
Sanderson, often stoic and emotionless on the mat, revealed some of his personality by clapping his hands and looking angry several times -- especially when Khodaei was awarded two points for back exposure on a roll Sanderson initiated.
I asked him to take us through the final moments of his last match
Cael Sanderson: "I just felt good. I mean, this is a do or die match. You know, you're either in contention, or you're sitting in the stands tomorrow."
Sanderson -- a world silver medalist last year -- didn't appear to have a case of Olympics nerves.
"It's hard to believe you're finally at the games, that you're within a few minutes from stepping on the mat, but it's really like every tournament," Sanderson said.
Cole Sanderson, Cael's Brother: "That's what makes him so exciting to watch. You never know what he is going to do. And it's always something amazing.
Kelly Sanderson, Cael's wife: "You never can count Cael out, in my opinion. So you gotta wait till the very end because he will pull it off somehow."
Cody Sanderson, UVSC Wrestling Coach: "I don't think I have ever seen him show so much excitement at the end of a match, and that is what I want to see. I want to see him excited."
Sanderson, Cael's Dad: "I don't remember if I did anything, my heart was going 900 miles an hour. We stood up and cheered."
Cael Sanderson: "My family, if it wasn't for them, and my wife, I wouldn't have been anywhere near the Olympic Games. So, it means a lot to them, and to me."
It's a short turnaround for Team Sanderson and family. He wrestles in the semifinals Saturday morning, against the number one ranked wrestler in the world, a Cuban that Cael has wrestled twice, but never beaten.
(The Associated Press Contributed to this story)
×