Estimated read time: 2-3 minutes
This archived news story is available only for your personal, non-commercial use. Information in the story may be outdated or superseded by additional information. Reading or replaying the story in its archived form does not constitute a republication of the story.
Keith McCord ReportingSixty-eight days to go before the presidential election. Have you made up your mind yet? For many Americans, the answer is still "NO". Need some help? Keith McCord found a quiz that may help you figure out which candidate shares your views.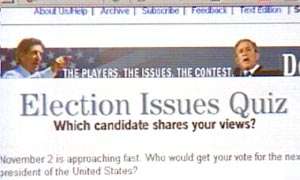 Less than three months to go until one of our most important voting decisions-- electing a president. The candidates, and their running mates are in an all out sprint to the finish line now, campaigning as much as possible.
John Kerry: "The fact is, this president rushed to war without a plan to win the peace, and we're paying the price of it today."
Pres. Bush: "But the question is, who is best to lead the country in the war on terror? Who can best handle the responsibility of the commander-in-chief?"
For many voters, the national conventions help them make up minds. The Democrats held their big pep rally last month, the Republicans are holding their convention in New York this week. After that, undecided voters will rely on ads, news stories, and the debates to make their choices.
If you're looking for something more immediate, try the web. We found an 'Election Issues Quiz' thanks to the Christian Science Monitor news service. Does the candidate share your views? Just click the mouse.
The quiz is short-- only 21 questions. 'Economic' issues are first. You answer the questions there, then click the box down below. 'Foreign' policy issues come up next-- seven questions there. Click the box for 'Cultural' issues. Then at the bottom, you click on 'quiz results', and it says results are not scientific.
Not scientific, but certainly interesting. The multiple choice quiz asks about everything from tax rates, healthcare, and Middle East policy to same-sex marriage and abortion. On a line-graph, with the left side labeled "Liberal" and the right side "Conservative", you'll find the results in a "You Are Here" icon.
On economic and foreign policy issues, our choices put us roughly in line with President Bush. On the cultural side, we're more in tune with Senator Kerry. So who do I vote for? With more than two months to go, there's lots of time yet for more research!
×
Most recent Utah stories