Estimated read time: 2-3 minutes
This archived news story is available only for your personal, non-commercial use. Information in the story may be outdated or superseded by additional information. Reading or replaying the story in its archived form does not constitute a republication of the story.
SUNSET, Utah (AP) -- The driver of a car that struck and killed a motorcycle rider told police he had just been involved in a road-rage confrontation with occupants of another vehicle, Police Chief Ken Eborn said.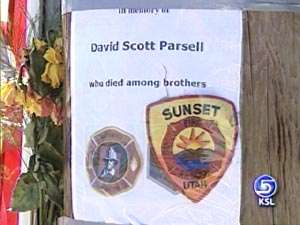 No charges have been filed in the accident late Friday that claimed the life of David Scott Parsell, 22, an off-duty firefighter for Farmington and Kaysville.
Parsell died early Saturday, less than an hour after his motorcycle was struck head-on by the car.
Three 16-year-old boys were in the Chevrolet Corsica that hit Parsell's motorcycle, Eborn said.
The Corsica's driver told investigators he was traveling 60 mph -- 15 mph over the speed limit -- and was caught up in a road-rage incident with the occupants of a minivan when he lost control, Eborn said.
The youths told police a minivan stopped suddenly in front of their car. As the driver applied the brake, the front passenger pulled the emergency brake, which sent the car into a spin into southbound lanes.
The people in the minivan, the teens told investigators, had "thrown something" and had made obscene gestures toward them, Eborn said.
"We were never able to identify that vehicle, or if in fact that really happened," he said. "But we've got a ways to go in our investigation. We've got a lot of information coming in from witnesses, and we plan to re-interview the three boys now that they've calmed down."
It's unclear whether Parsell was wearing a helmet, Eborn said, but "the injuries were severe enough that a helmet probably would not have made a difference."
Even if the teens were in the midst of a road-rage incident, that would not excuse their behavior, Eborn said.
"Obviously, if you're involved in a road-rage situation, the way to handle it is not to speed up and try to catch the other vehicle," he said. "The thing to do is pull over, get away or jot down the license plate number and call police. ... I'd say these boys still have some responsibility there to not do what they did."
(Copyright 2004 by The Associated Press. All Rights Reserved.)
×
Most recent Utah stories