Estimated read time: 2-3 minutes
This archived news story is available only for your personal, non-commercial use. Information in the story may be outdated or superseded by additional information. Reading or replaying the story in its archived form does not constitute a republication of the story.
Kimberly Houk ReportingThe Granite School District has a new testing program that lets them gauge student progress in math on a weekly basis. Teachers are also using the data to make sure each student masters a concept before he moves on.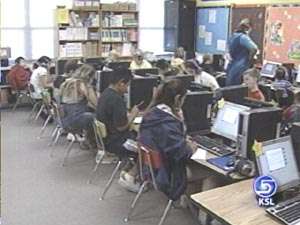 Once a week elementary students sit down at a computer and take a 15 minute test. Their answers provide teachers with lots of information. But it's what educators are doing with the information that has one West Valley City Elementary school recognized nationally for not leaving any students behind.
Diane Flaim, Principal: "Based on those reports, the teachers can say, 'Ok I know I taught fractions last week, and I see that 15 kids have mastered it, eight kids almost have it, so they can pull those kids into a group."
And this is where the tailored instruction begins. If a group of students isn't understanding a particular math concept, historically teachers found out about it months down the road. But at Stansbury Elementary school in West Valley teachers are finding out what their students are absorbing on a weekly basis, thanks to a new computer program completely funded by a federal grant called Yearly Progress Pro.
Diane Flaim, Principal: "We can look on a weekly basis to see how our children are progressing with the entire curriculum for the year."
Their teachers get a print out of the weekly test that breaks down how many students are mastering the concept, how many are sort of getting, and how many don't understand at all.
Diane Flaim, Principal: "It's critical to be able to watch the children's progress, not only for myself and the teachers, but also for the parents."
Teachers can now track individual students, what questions they answered wrong, and what step in the mathematical process they're not grasping. It's a tool that's changing the way they teach.
Tawnicia Stocking, Teacher: "I've basically just taught the subject before, and whoever didn't get it, we'd just cram it into their head - keep going. And now I can actually go back and figure out what step they missed."
Diane Flaim, Principal: "It's going to give us that accurate current data for what our children need, for what our teachers need to adjust instruction, and it's really incredibly valuable."
Right now, only a math test is available with this program. But elementary schools hope to also have a weekly reading test in place by next fall.
×