Estimated read time: 2-3 minutes
This archived news story is available only for your personal, non-commercial use. Information in the story may be outdated or superseded by additional information. Reading or replaying the story in its archived form does not constitute a republication of the story.
One of the most respected women in national news is adding a new talk show to KSL's afternoon lineup. Jane Pauley and Nadine Wimmer recently sat down to talk about how she hopes to make a connection with Utah audiences.
Nadine Wimmer Reporting
Jane Pauley was pretty candid about some of the trials and lessons she's gone through in recent years. She talks about wanting to help and learn from people on a daily basis.
NBC's Jane Pauley arrived at a turning point at age 51 with her twins in college and having lost both parents.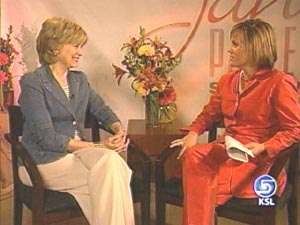 Jane Pauley: "All of those factors conspire to remind you, you are in a different place. You are in a very different place in life. What are you going to do about it? I quit with absolutely no plan in mind, but I had confidence something would happen."
She told me that gamble led to a life lesson.
Jane Pauley: "If I had not already said I'm leaving Dateline after 11 years and NBC news after 27 years, this wouldn't have happened. I had to make the leap into blue sky for this to happen."
That theme of constant self-discovery is something she plans to share with viewers.
Jane Pauley: "It's my own experience that knowing what my own stuff is, I can't wait to find out what yours is too. And maybe I'll find out before you will. This is an opportunity to make my life, my work. And if that's not a dream opportunity, minus the pressure (laughs)."
The pressure she refers to going up against other established talk shows, but that's not the challenge on which she's focused.
Jane Pauley: "I don't know what you're talking about, what competition? Exactly. I'm not going to save the world or change television as we know it, but definitely want to make it better."
Jane Pauley airs on channel five at four o'clock, and leads into Eyewitness News at Five.
×